Group of Chromo-Lithographs from "Twix Two Worlds - a Narrative of The Life and Work of William Eglinton" 1886.
The use of poppets in witchcraft and magic is an age-old practice, but their potential uses have long been closely guarded secrets, and as such there are an abundance of myths, folklore and superstition surrounding their use. For example, in more recent times poppets have been negatively aligned with the Voodoo Dolls of Haiti, which through popular fantasy fiction portrayed in films and on T.V, are commonly associated with malicious intent - revenge, hate or evil. Today poppets are more likely to be used for protection, prosperity, luck, love, health and happiness. However, as and when a need has been identified, they can also be used for banishing and binding to prevent harm.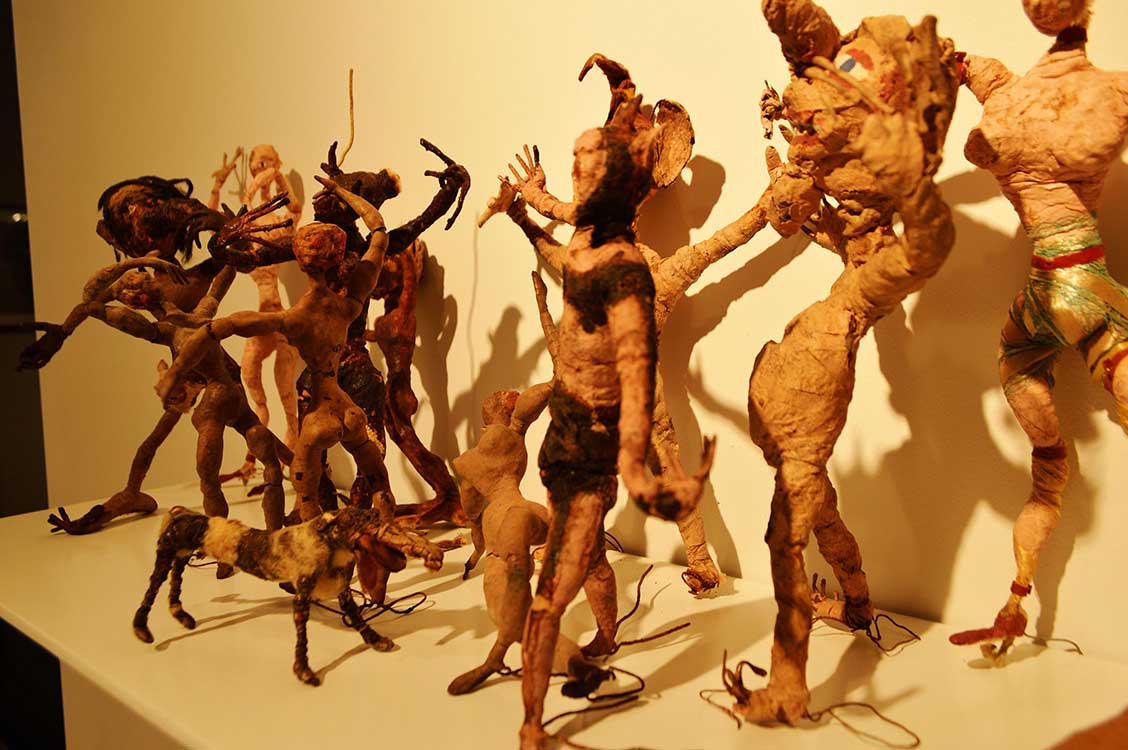 Pair of Hand Tinted Photographs of Woman with Mask, circa 1920's, French.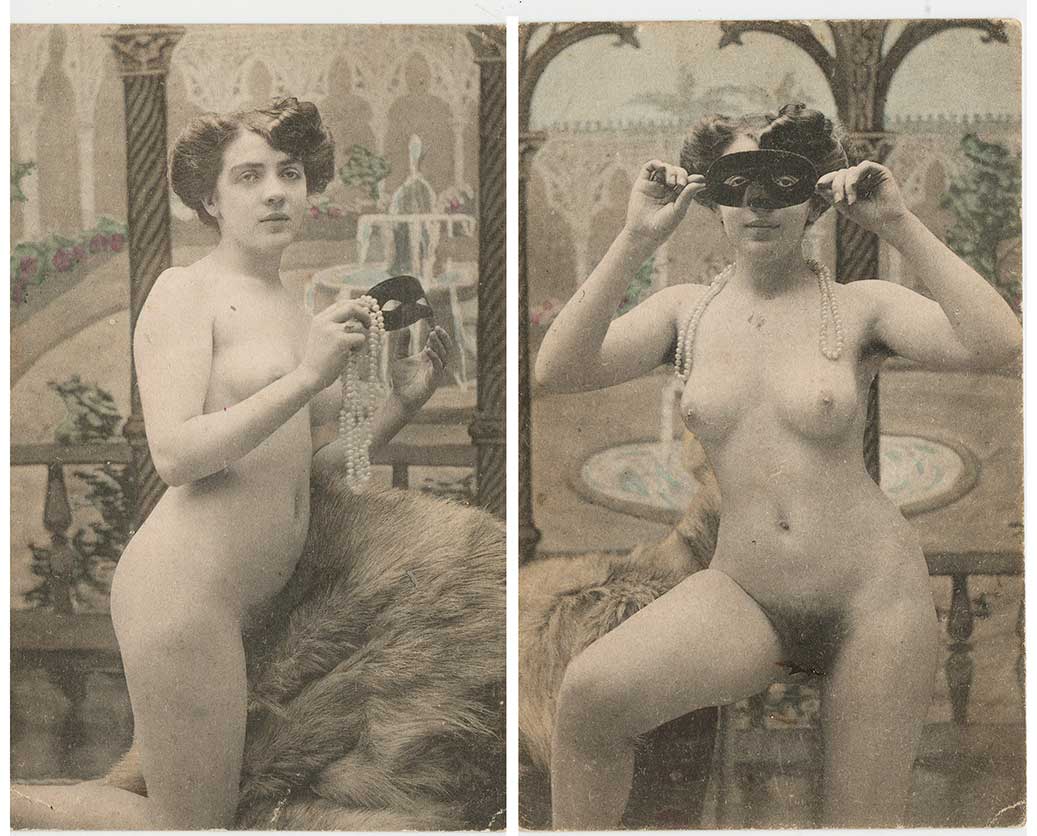 Thesophical Screenprints, attributed to Olga Fröbe-Kapteyn (1881 – 1962), who was a Dutch artist and theosophist.
She is best known as the founder of the Eranos Foundation that held annual meetings of scholars. Date unknown, c. 1930's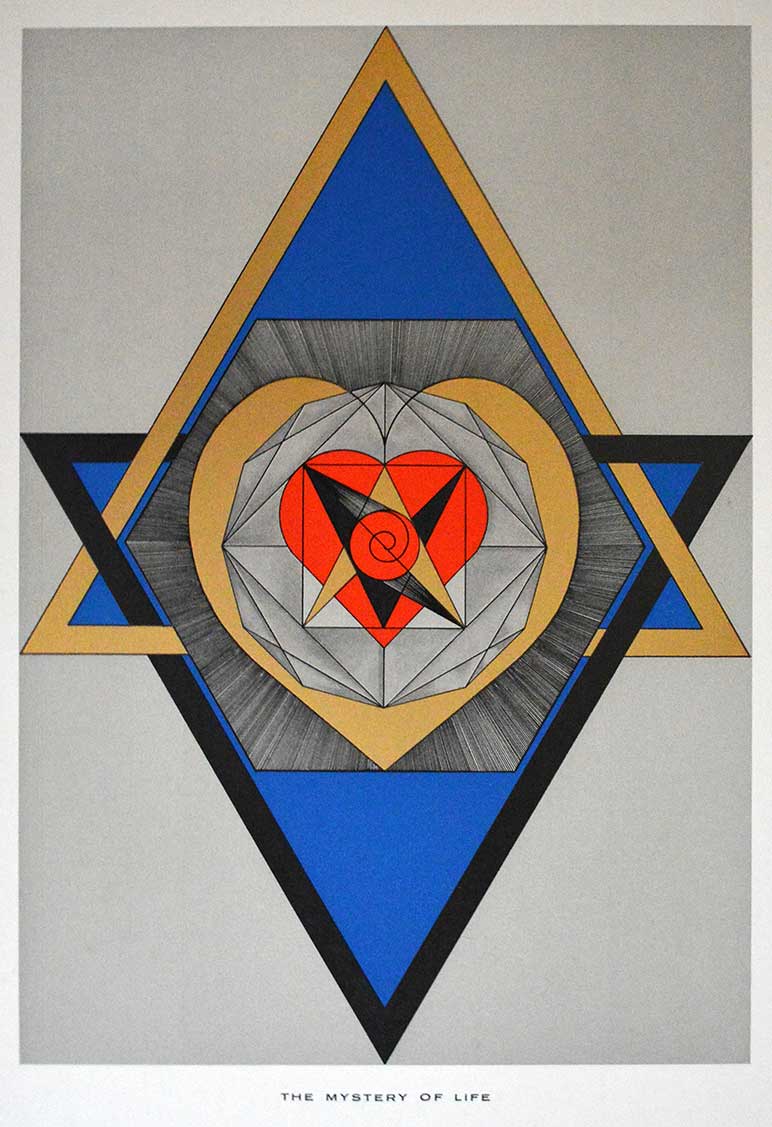 Man with Skull and Open Book photo-postcard c. 1900
4 1/4 x 3 1/4 inches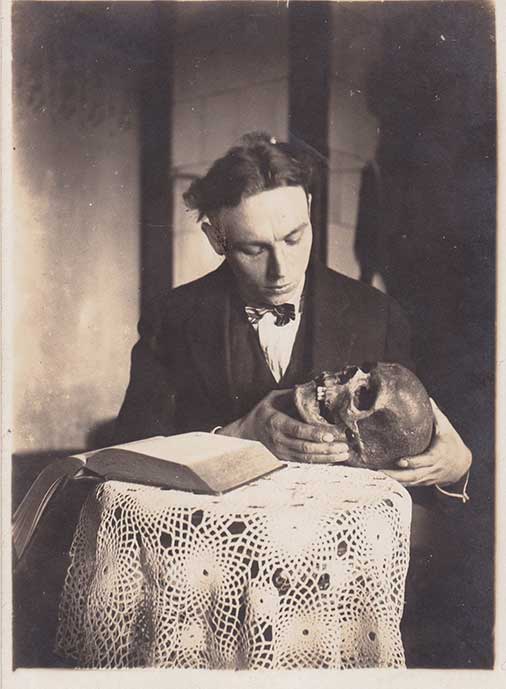 Anonymous Apocalyptic Painting, 1924, found in abandoned church in Detroit Michigan
Exhibited The Metro New York Show 2015
Morbid Anatomy Museum Brooklyn 2015
(for larger version open image in new tab)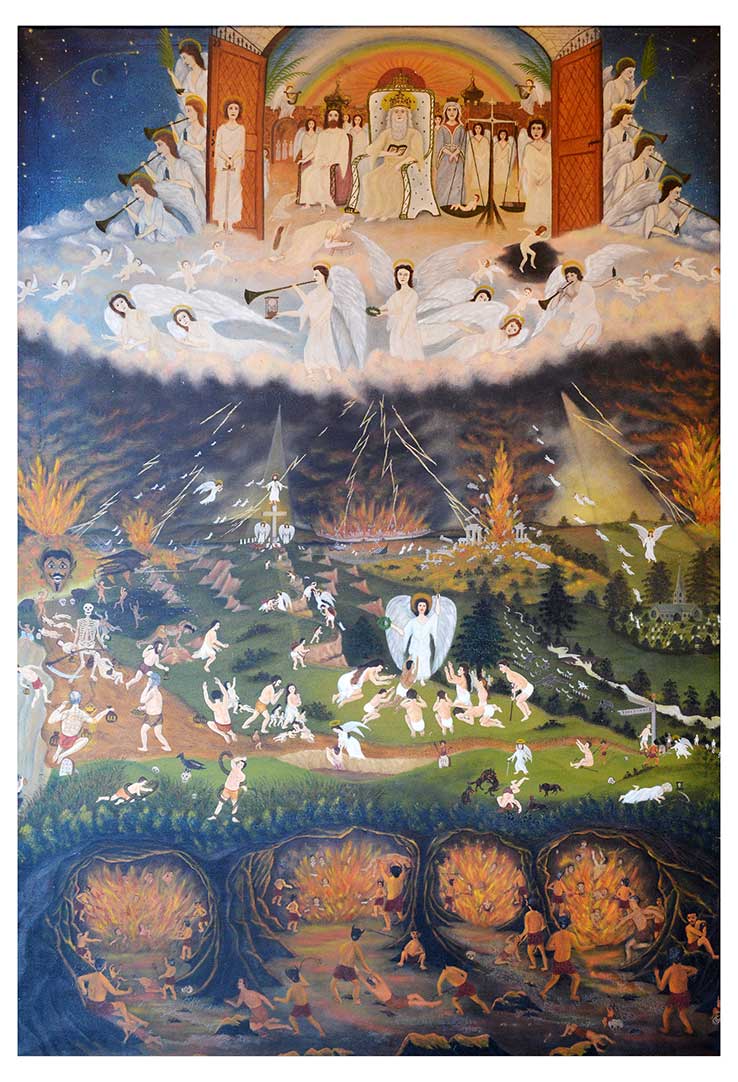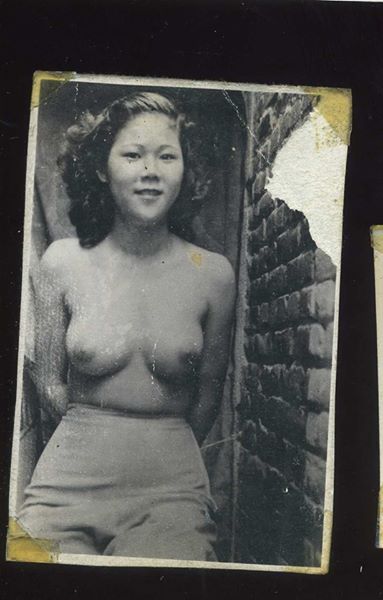 3 lose illustrations from original books by Jakob Böhme (1575-1624) c. early 1600's, edition size unknown. Ink on paper.
It is unknown who actually is the author of these illustrations.
Exhibited Morbid Anatomy Museum, BLAM Brooklyn, Stephen Romano gallery.
Pair of snapshots depicting Nude Chinese Woman, circa 1940's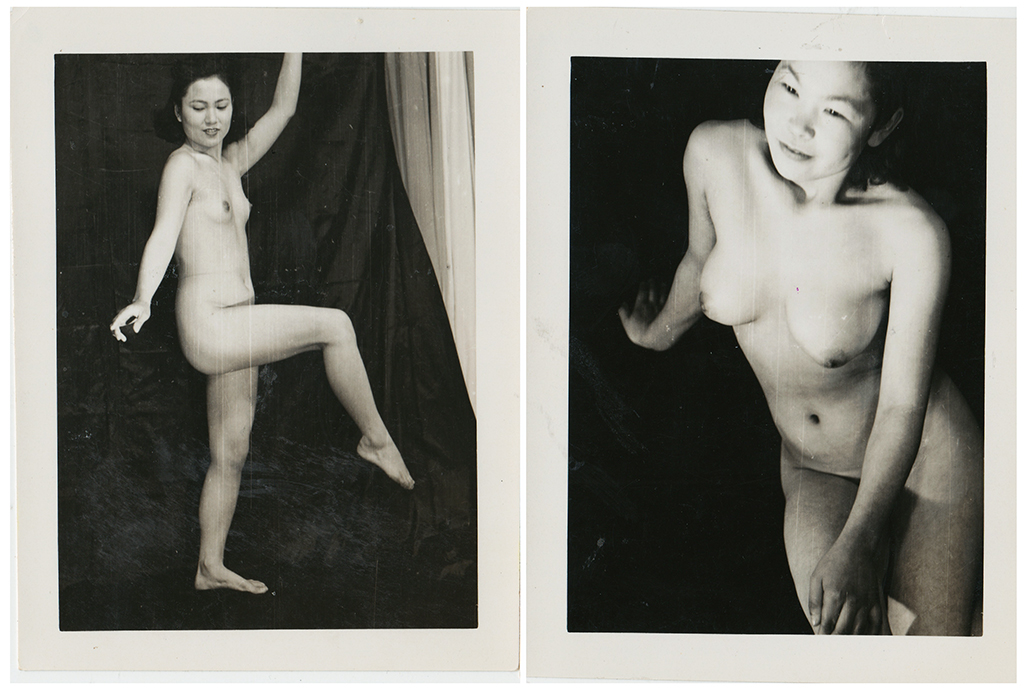 "The Venus of Detroit" c. 1940's Carved and painted wood 12 inches high.
Used as a fertility figure by an African American midwife.
Lobby cards for the Film HAXAN, circa 1950's, possibly much earlier.
6 1/2 x 5 inches each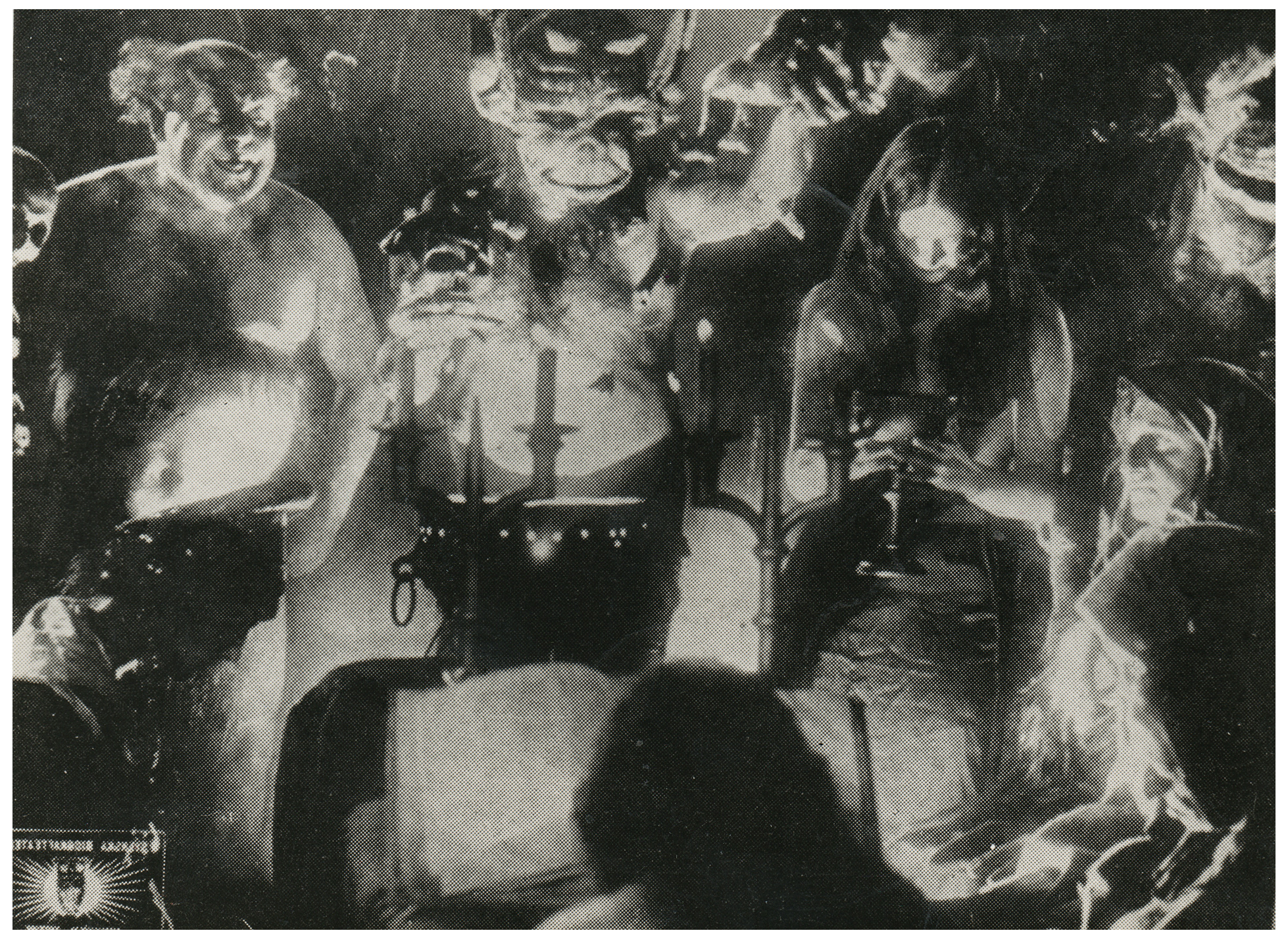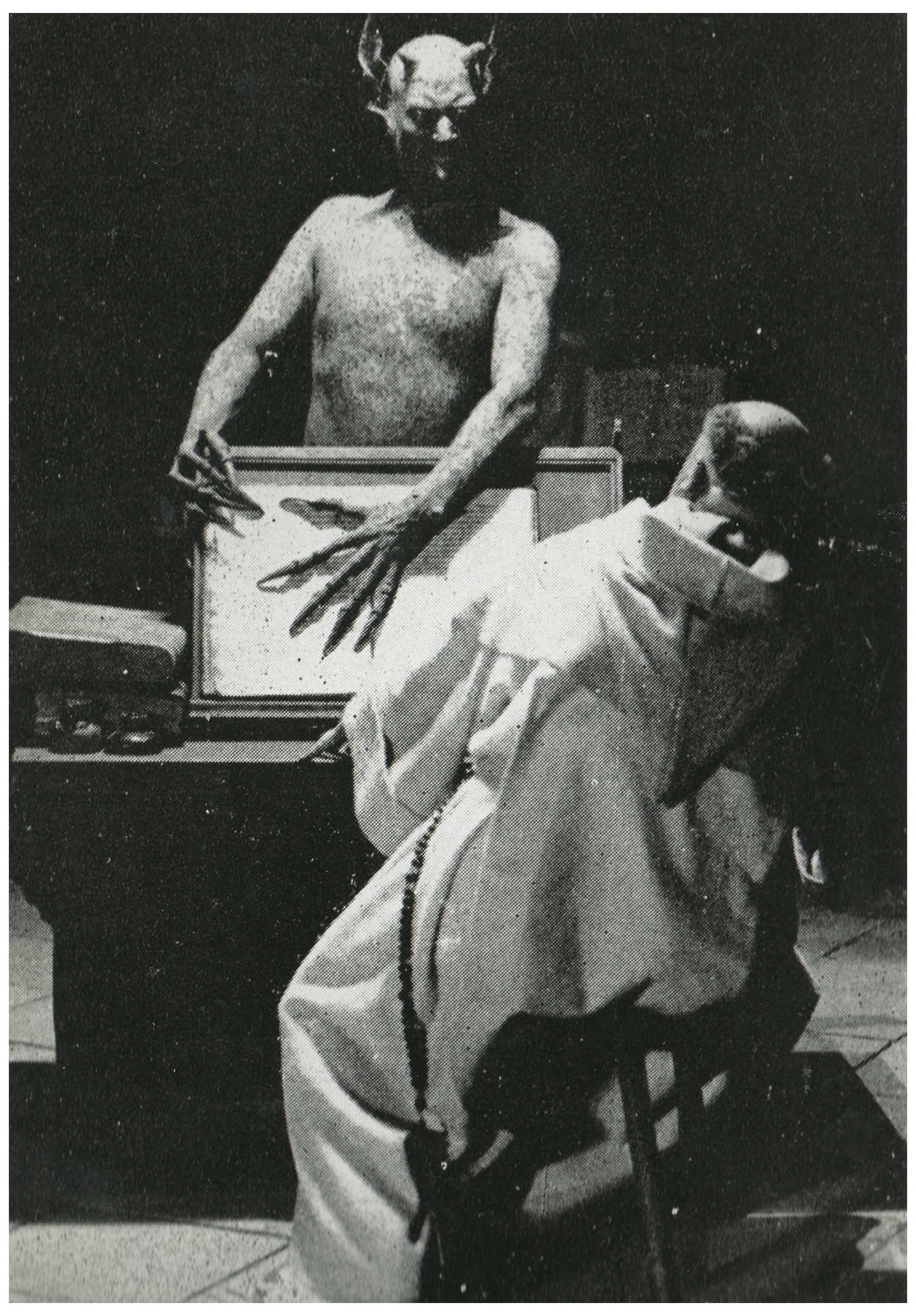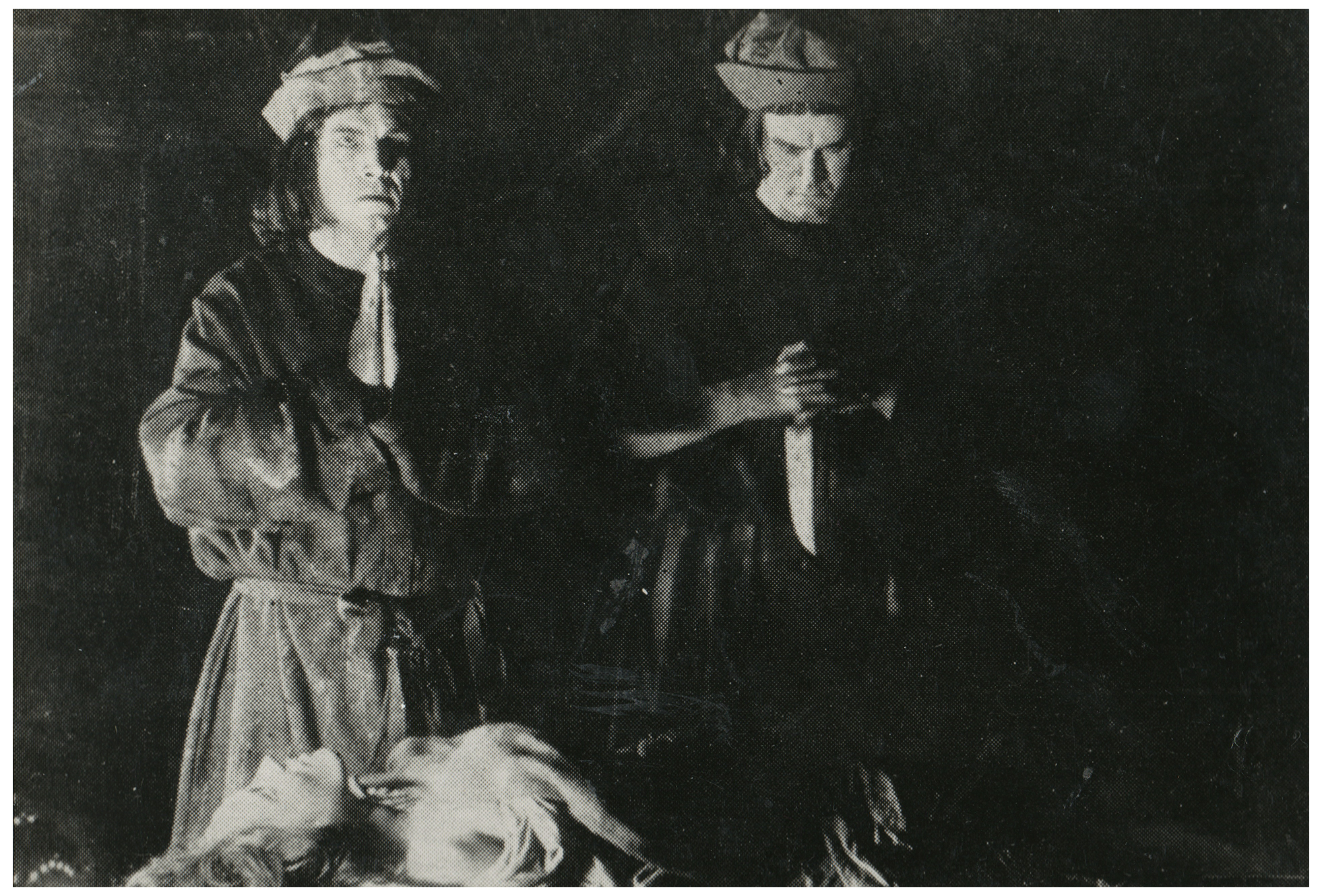 Pipe Rack with Imp ,carved and painted wood with ornamental metal attachments, c. 1860, MASS.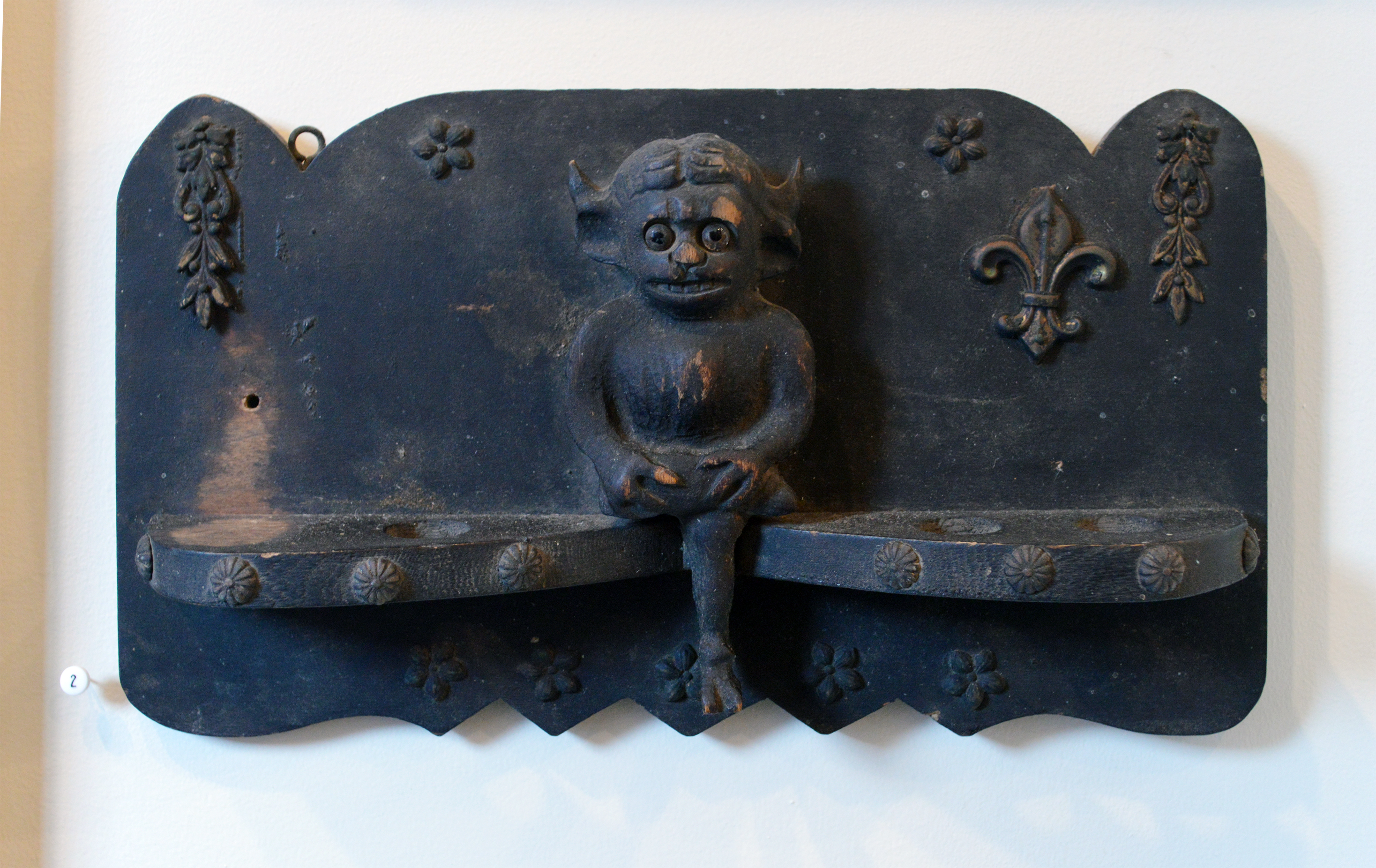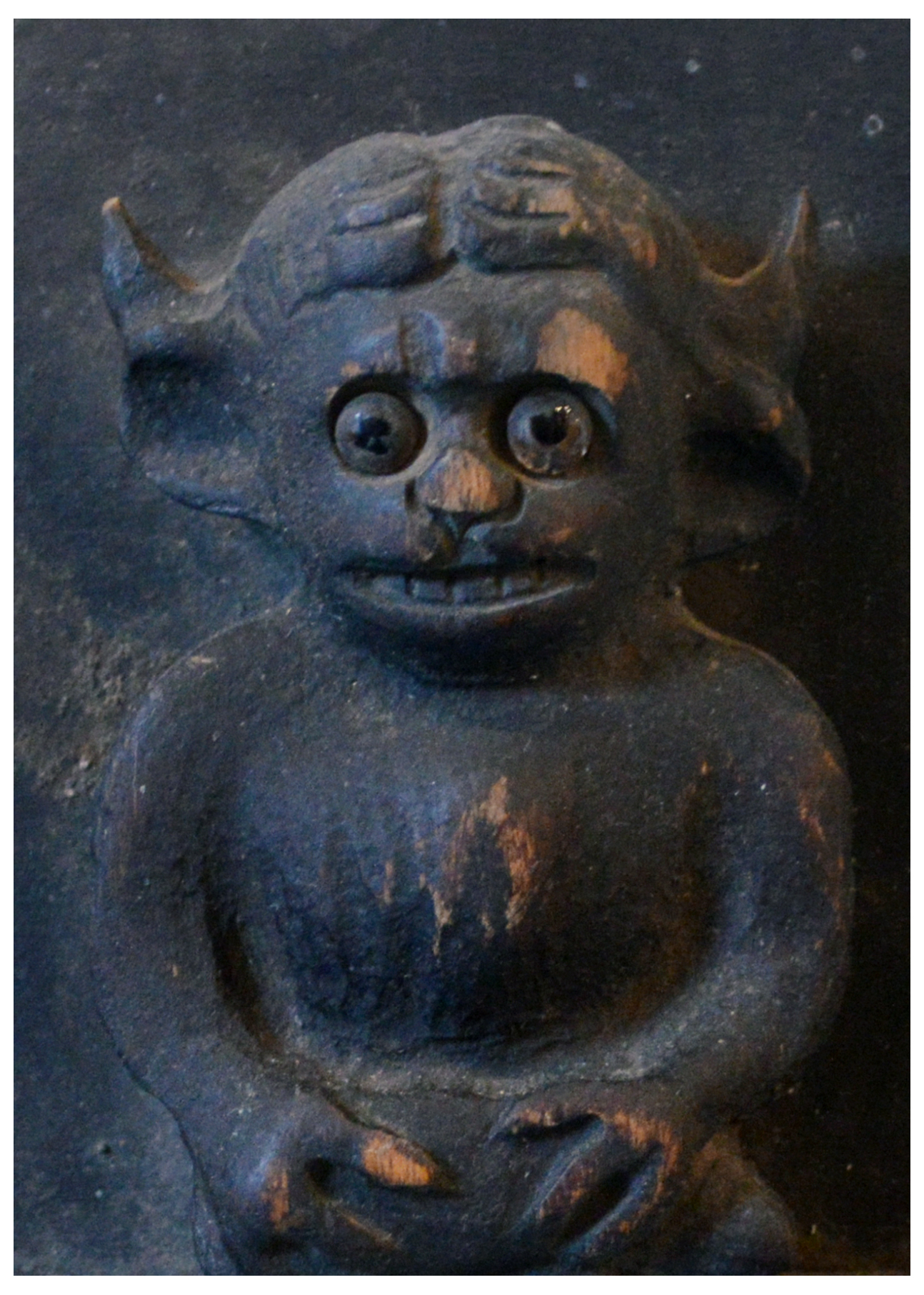 Set of 11 snapshots of nude woman with tiger demon mask circa mid 1940's
aprox 3 1/4 x 4 1/2 each.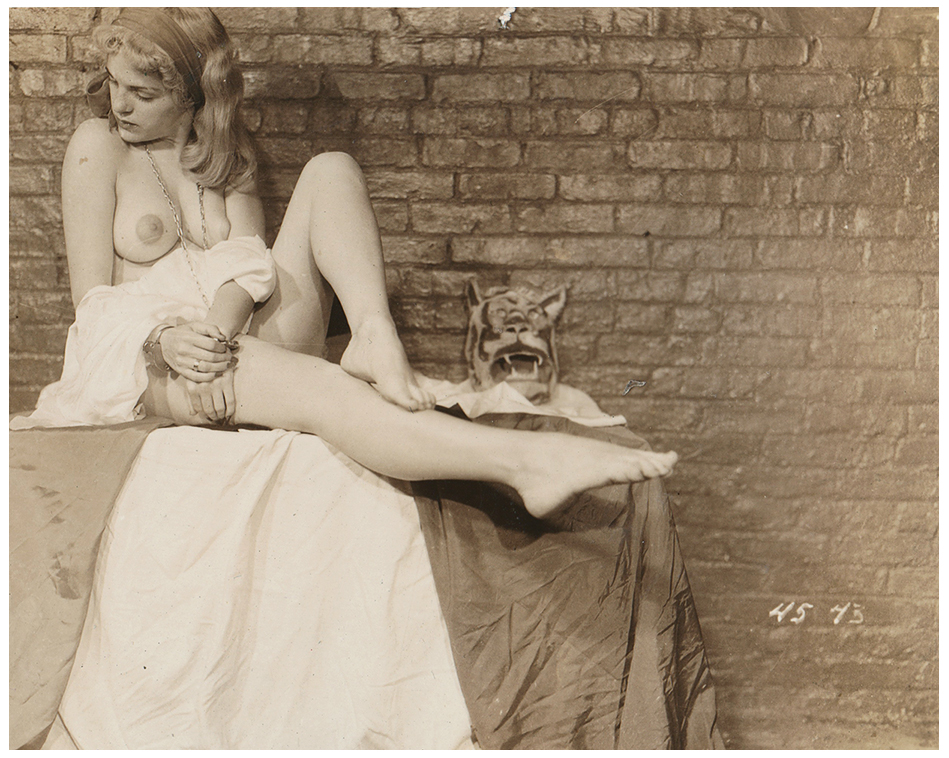 Sideshow gaff of a "DEVIL CHILD". Made of mud,
paper mache and animal parts culled from the Arizona desert (such as the deer hooves for feet).
Exceptional condition. Measures 30 inches by 12.
The text reads "The Devil Child was born of Mexican Indian parents. The cause of the child being marked as you see it, it is said to be a religious dispute between its parents. The father, an infidel, took offense to some religious pictures the mother had hanging on the bedroom walls. He tore the pictures from the walls, threw them on the floor and jumping on them said he'd sooner have the devil before his eyes than the pictures. The mother became frightened and a few months later when the child was born, this is how it came into the world. When the mother saw the child she died of fright. The father became a raving maniac. The child lived eighteen months. It was buried Indian fashion -- laid away in a cave where the warm air mummified it. The body was found by snake trappers and sold to Mr. Douglas of England."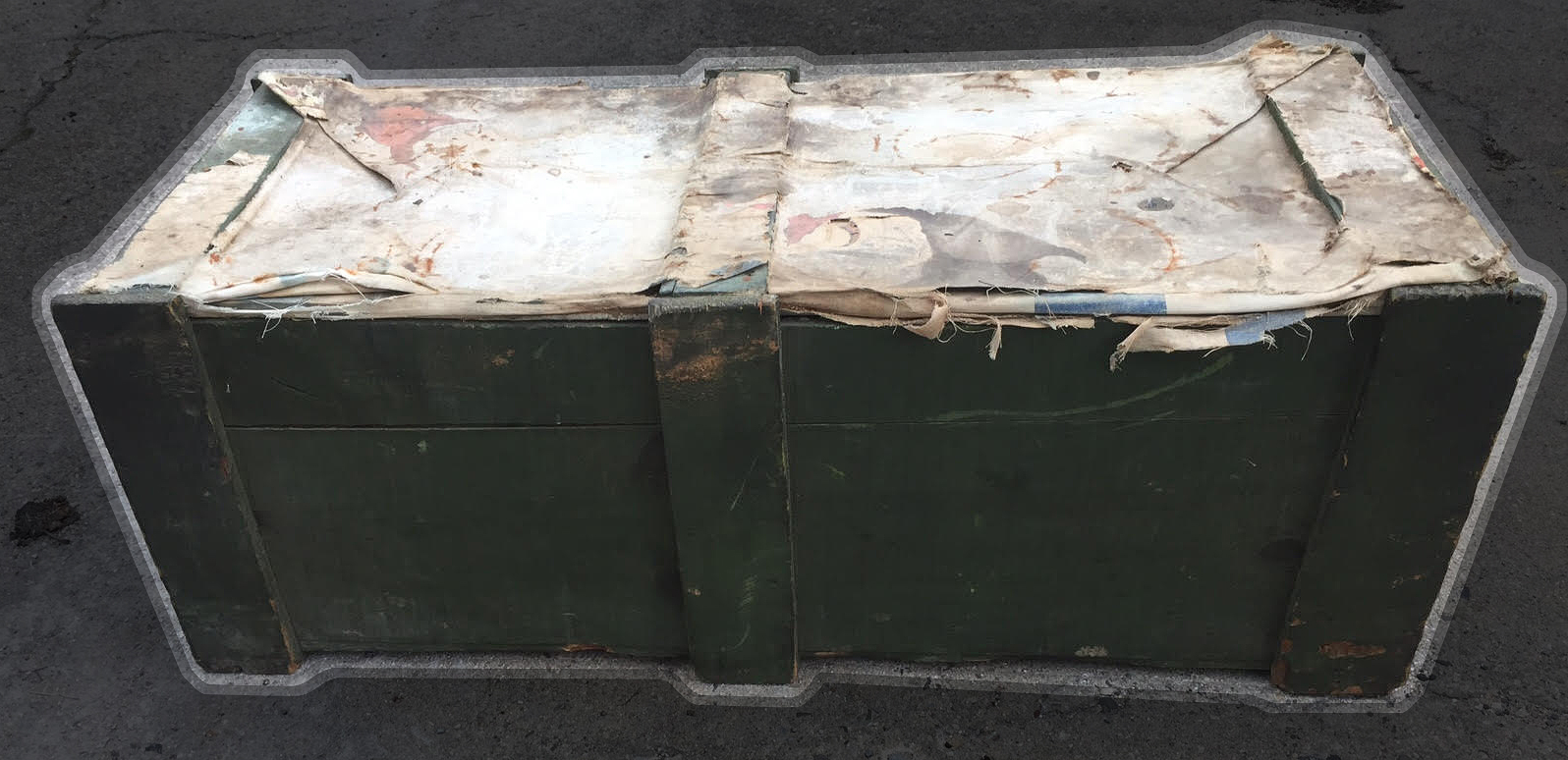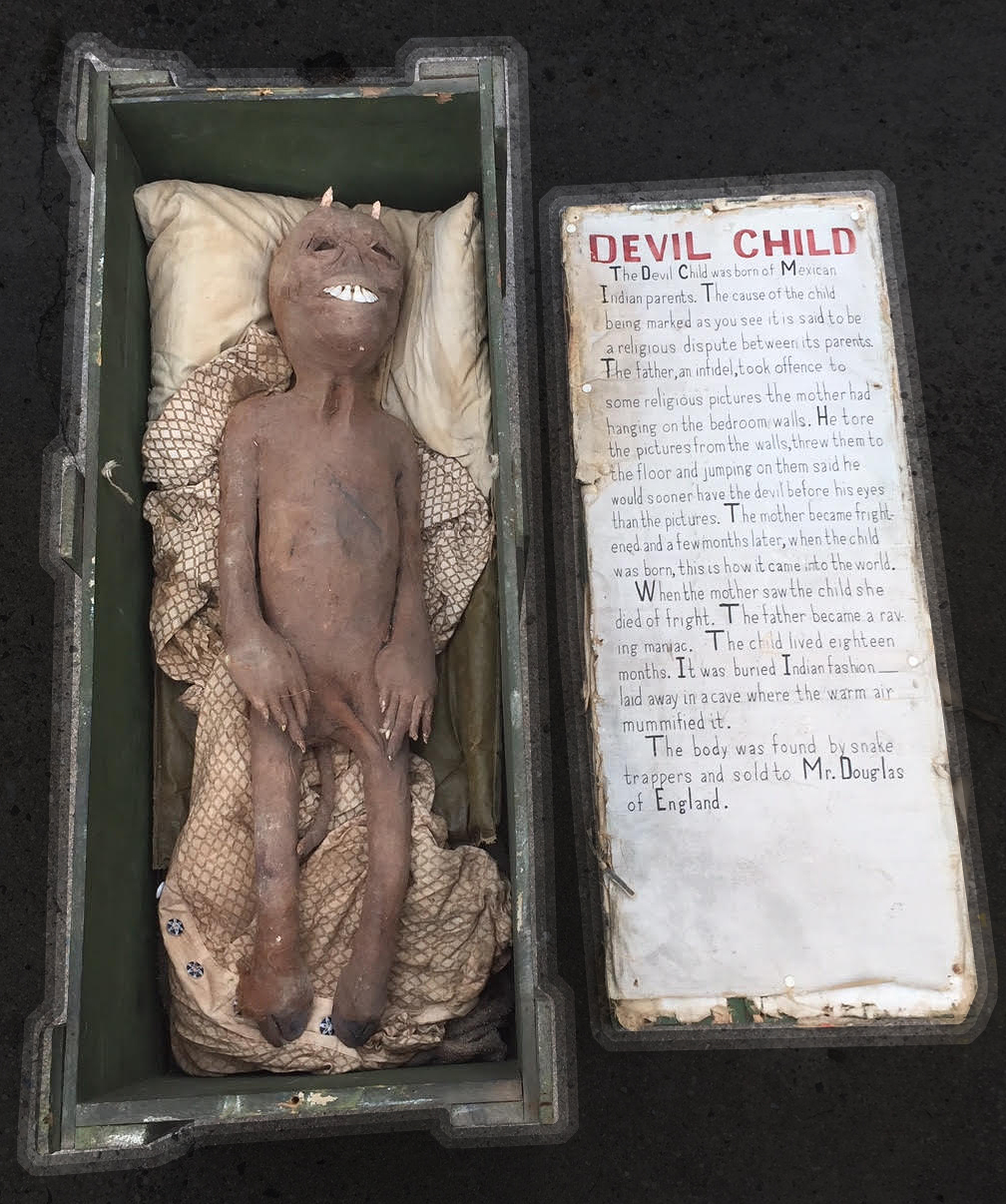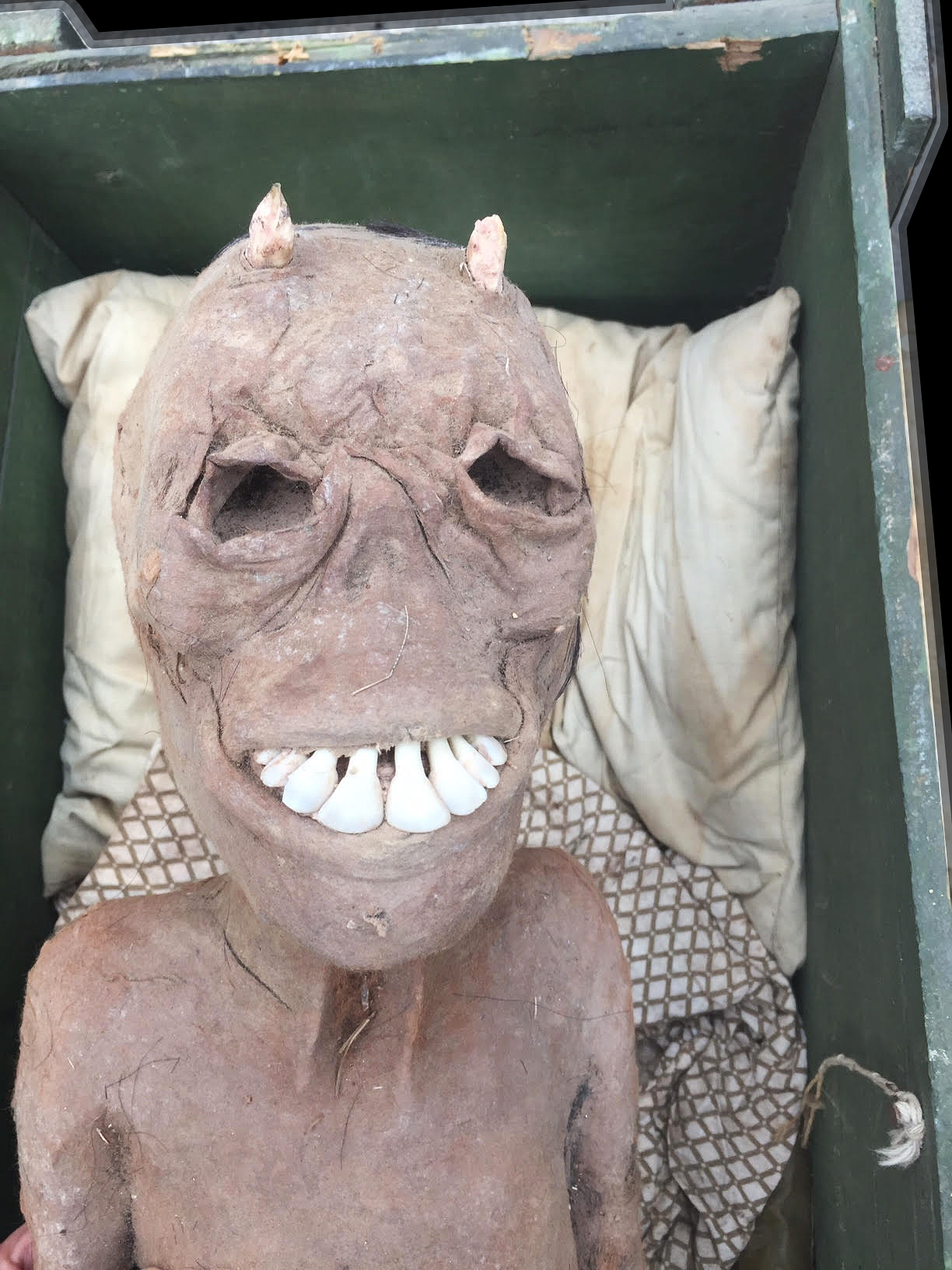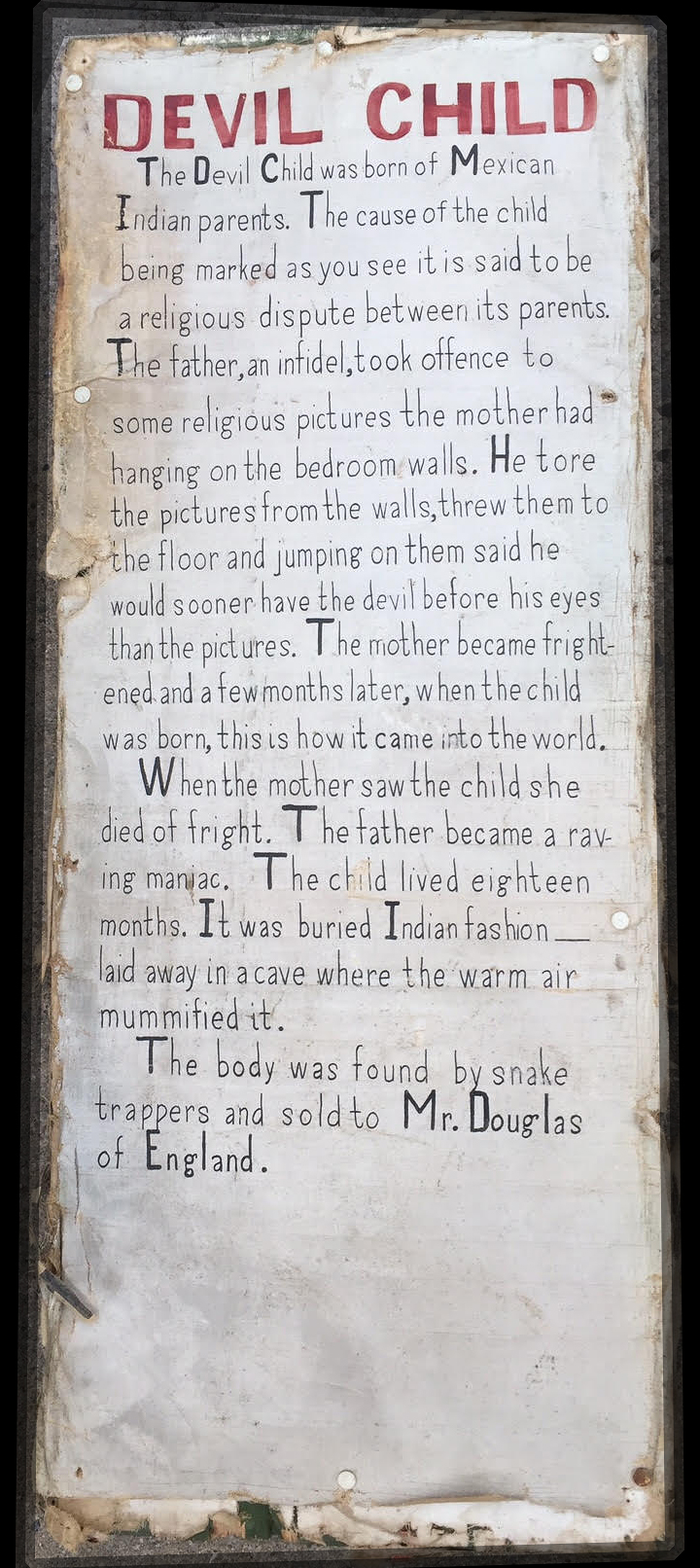 Photo postcard of Lesbian Chinese couple circa 1930's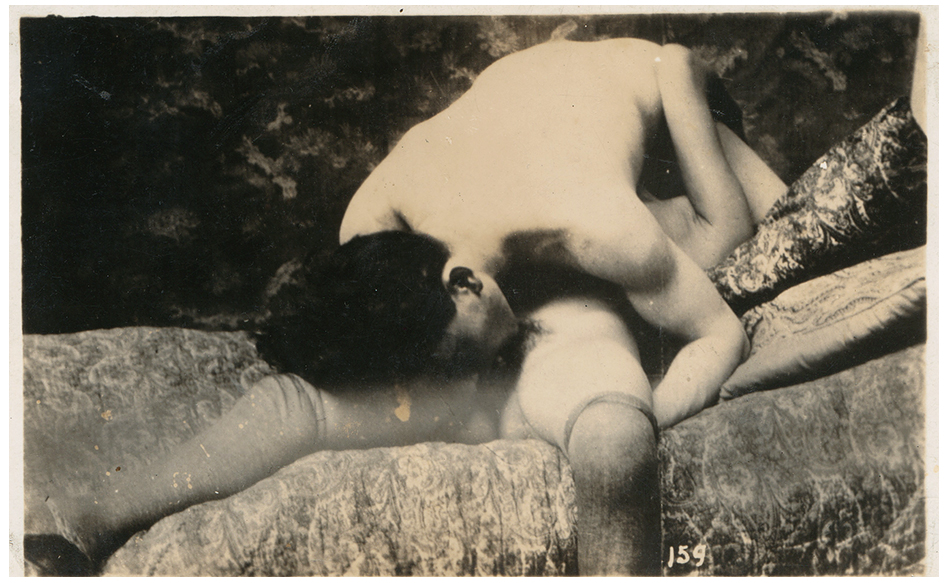 Ceremonial Wand, Boston MASS c. 1800 Carved and inscribed Scrimshaw
bearing the inscription "AMASARAC" the demon entity possesing magical and tranformative powers over spices and herbs.
Presumably this wand was used to handle such spices and herbs durring ceremony, while conjuring AMASARAC to empower them.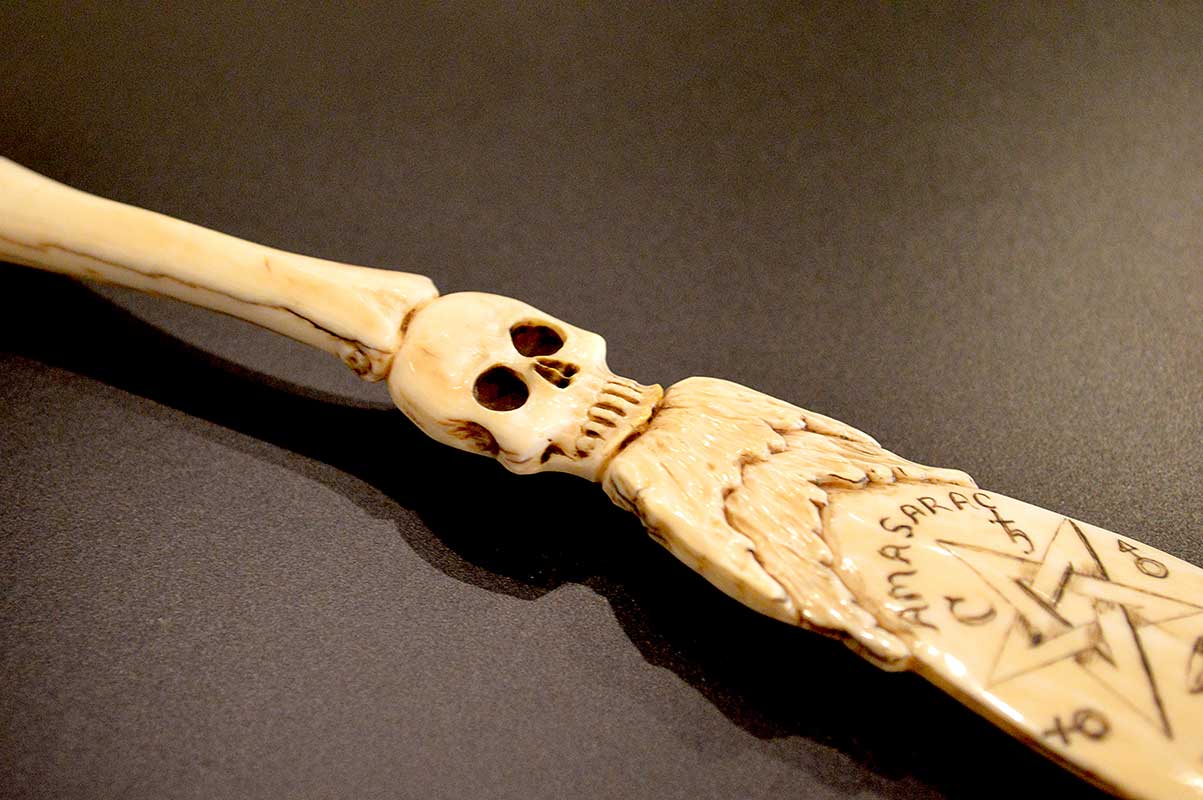 Veiled Woman with Shrunken Demon Head. Photograph on double weight paper 10 1/2 inches high circa 1920's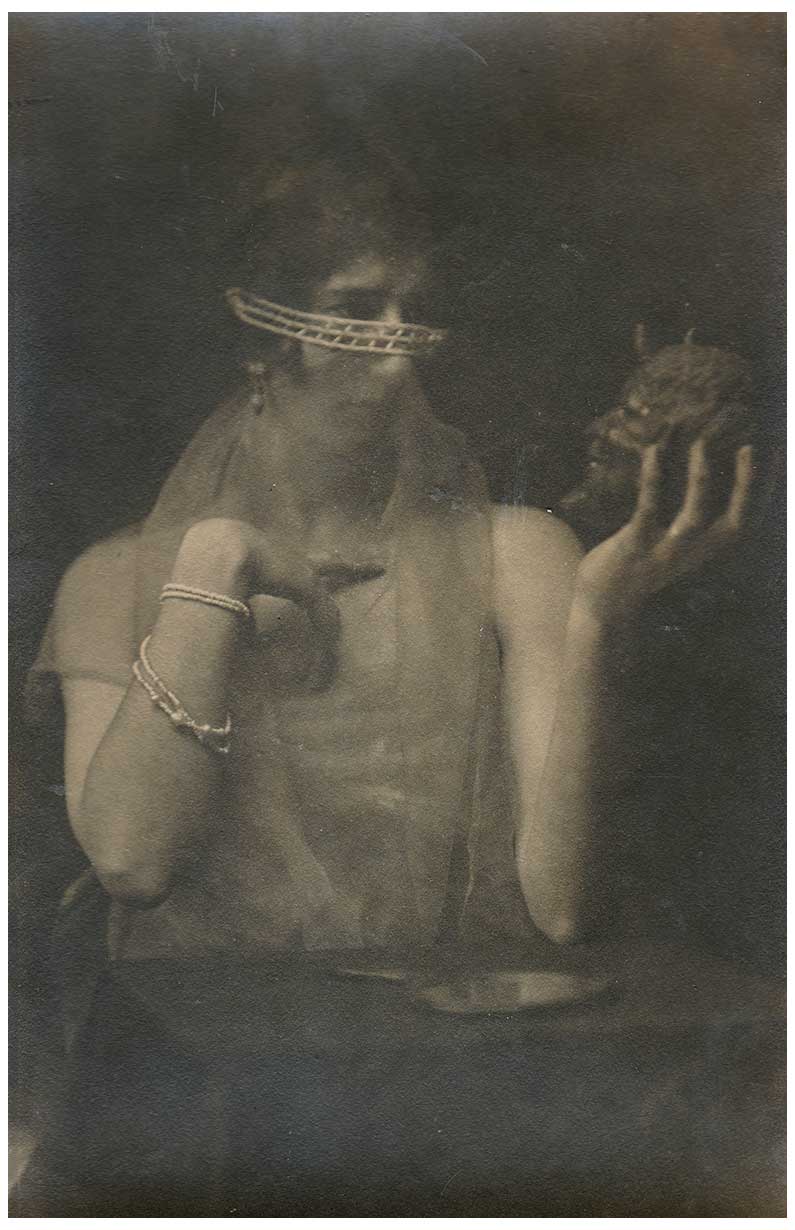 Bizango VooDoo Altar, c. 1980, Found in tenement in New York City.
Exhibited "In Missa Interfectionis" Stephen Romano Gallery
"Opus Hypnagogia" Morbid Anatomy Museum, also continuous display in the Morbid Anatomy Museum library.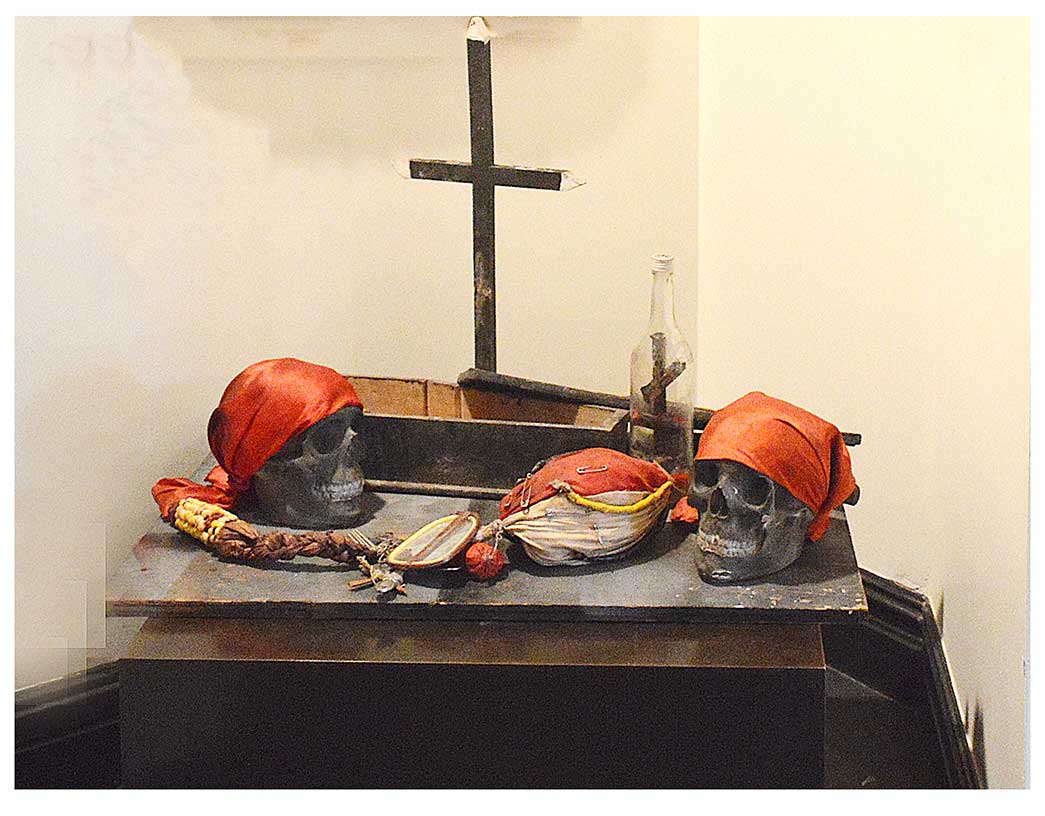 Portraits of Nude Women in Thailand, circa 1950's each aprox. 5 x 3 1/2 inches. very worn.
Anonymous (signed "Leonard Frontinak") Tiger painting.
Exhibited "Opus Hypnagogia" Morbid Anatomy Museum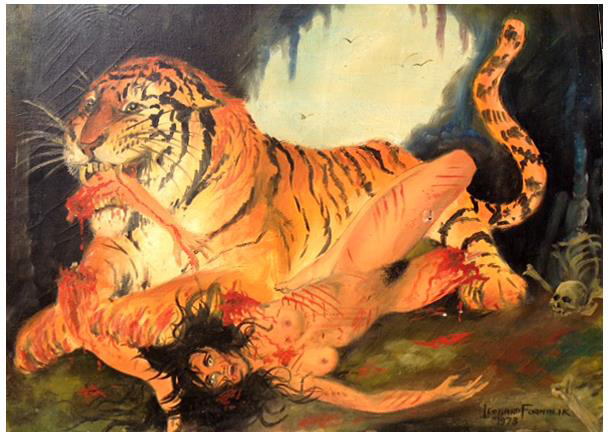 SPIRIT PHOTOS
Spirit Photos and euphemera from Camp Silver Belle, Ephrata PA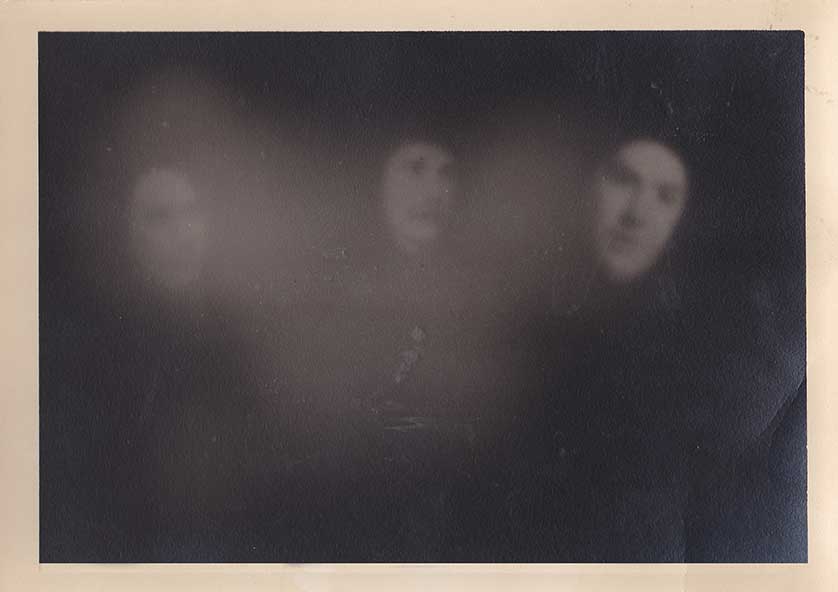 Group of 4 spirit photos, unique prints not CDV's. 1865 - 1910
first row: Native Man with ancestral lineage, date unknown c. 1900, Phantasmagorical Spirit photo c. 1880
second row: DD Holme, America's first "legitimate medium and levitationist" c. 1865, Husband visiting wife photo (portland ORE c. 1880)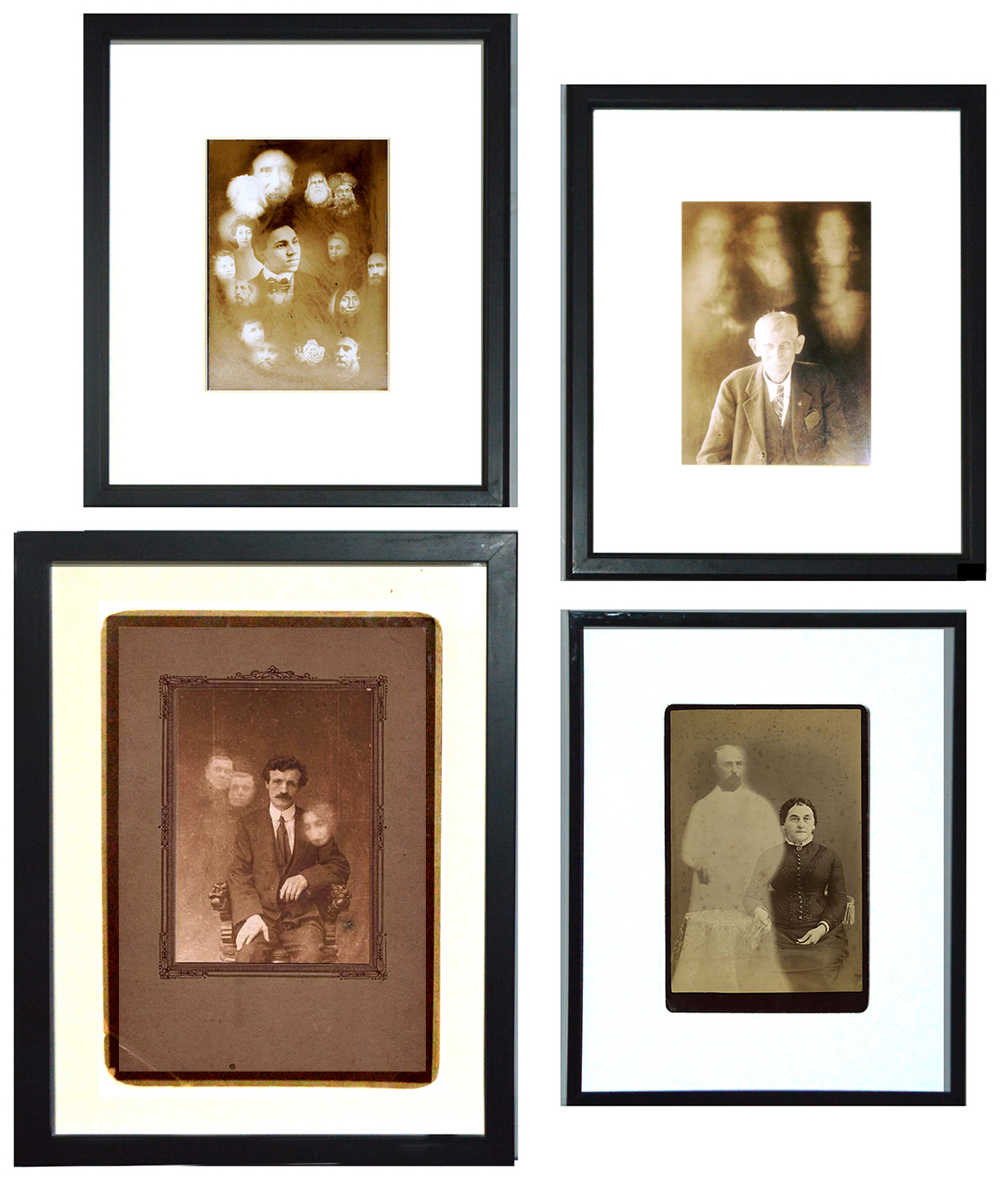 William Hope, Group of 3 spirit photo, photo postcards (one has writing on verso) edition of 3, London UK c. 1920's images 3 1/2 inches each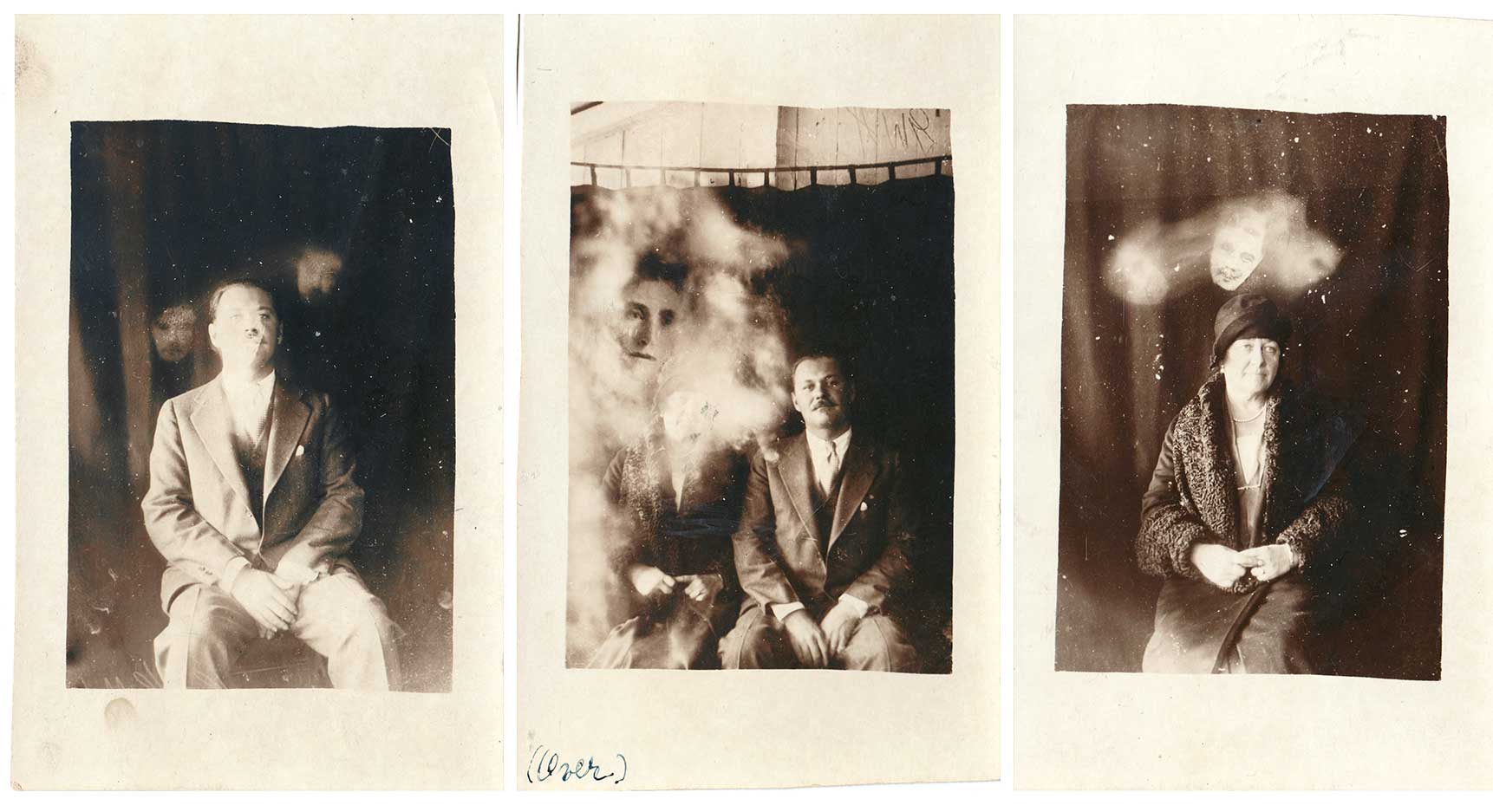 ODD Fellows Banner, c. 1880, Texas.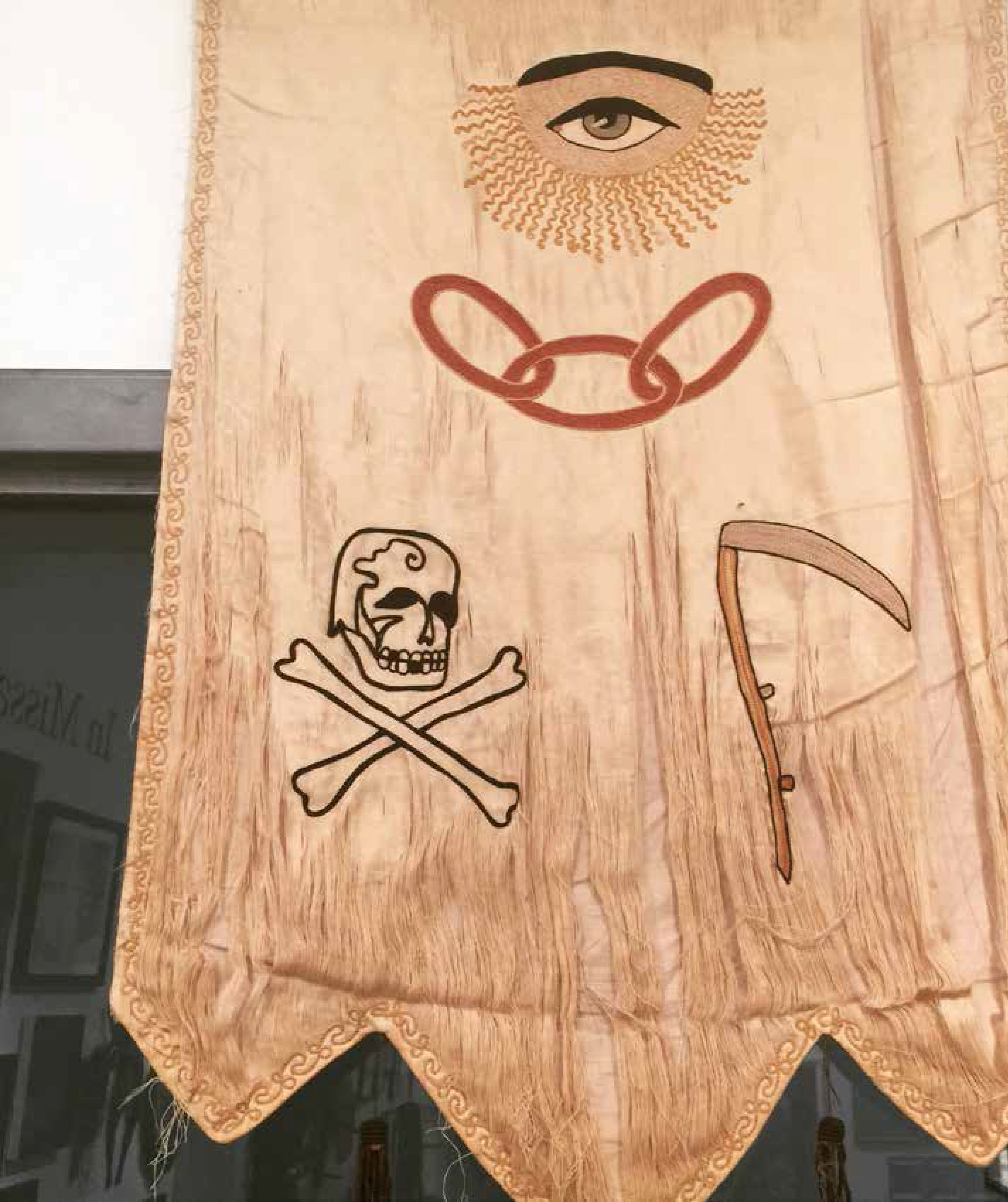 ODDFELLOWS ceremonial Arc Of The Covenant Angels, c.1880 15 inches high each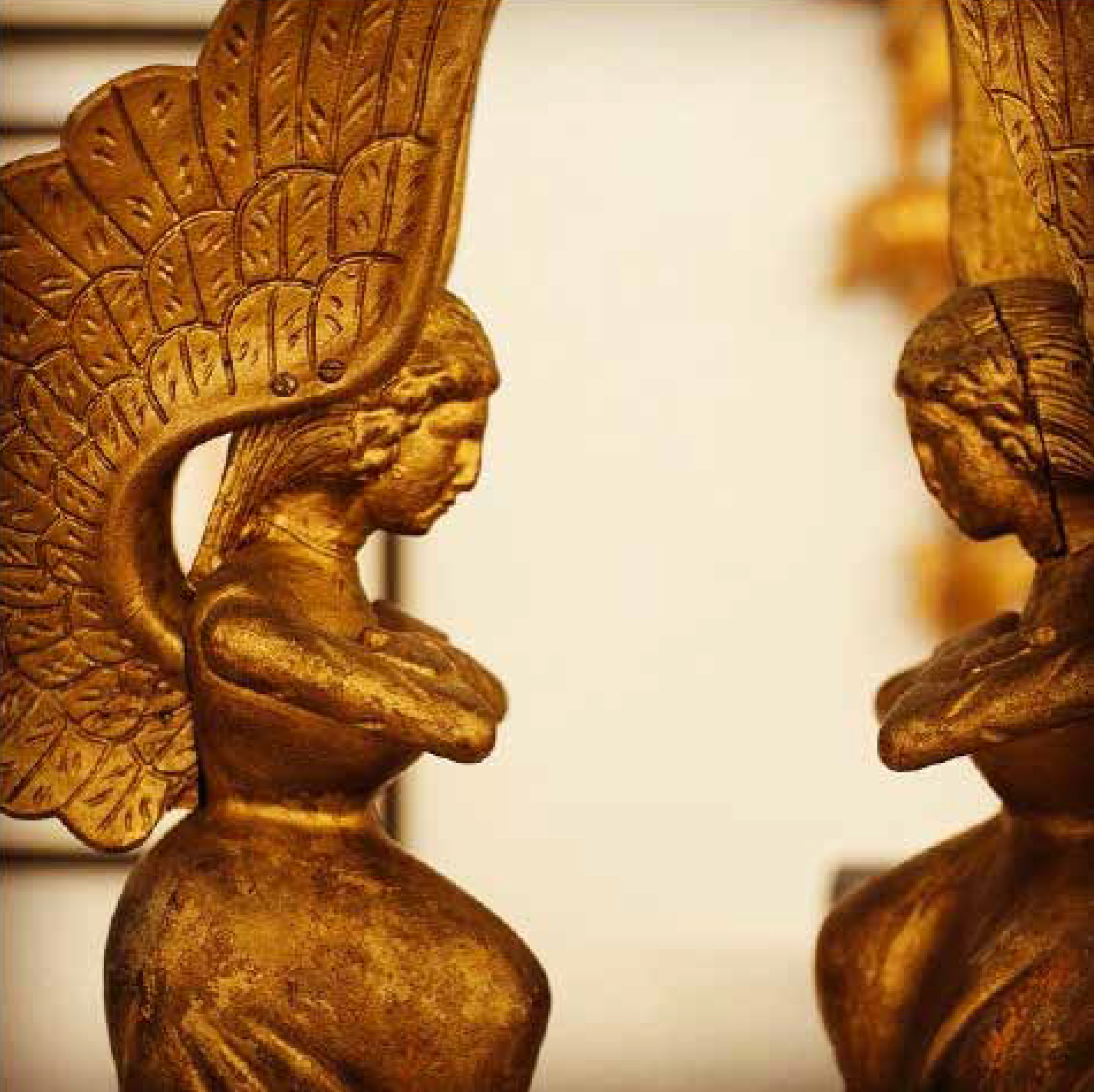 "Devil and Dancer" painted relief, found in Midwestern US, c. 1900 12 1/2 inches high.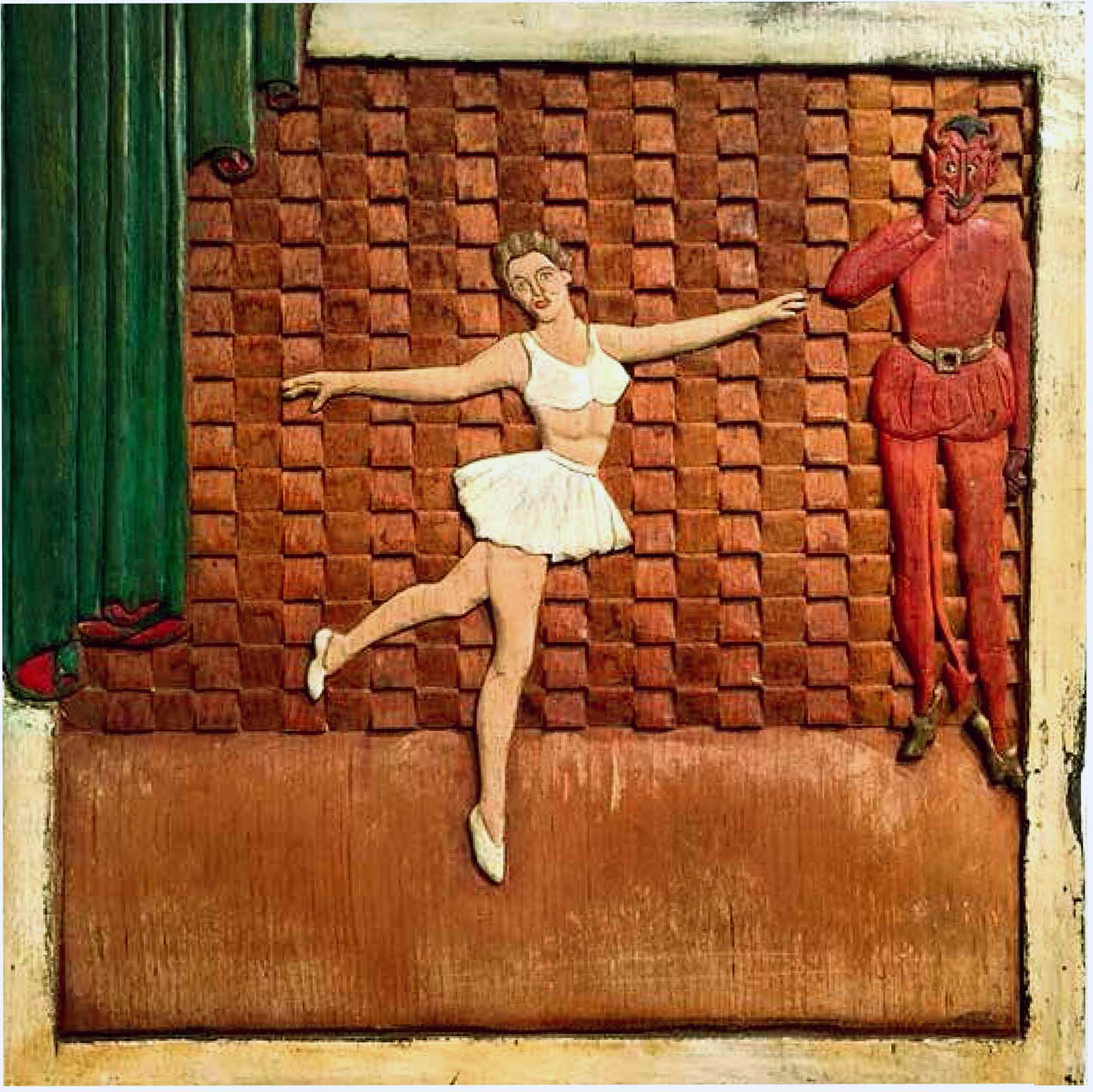 Pair of Apocalyptic Paintings by unknown maker (signature illegible) circa 1940's, Midwestern American Unknown medium, probably enamel or house paint
WW2 War Painting with Satan (watercolor) by unknown maker circa late 1940's early 1950's.