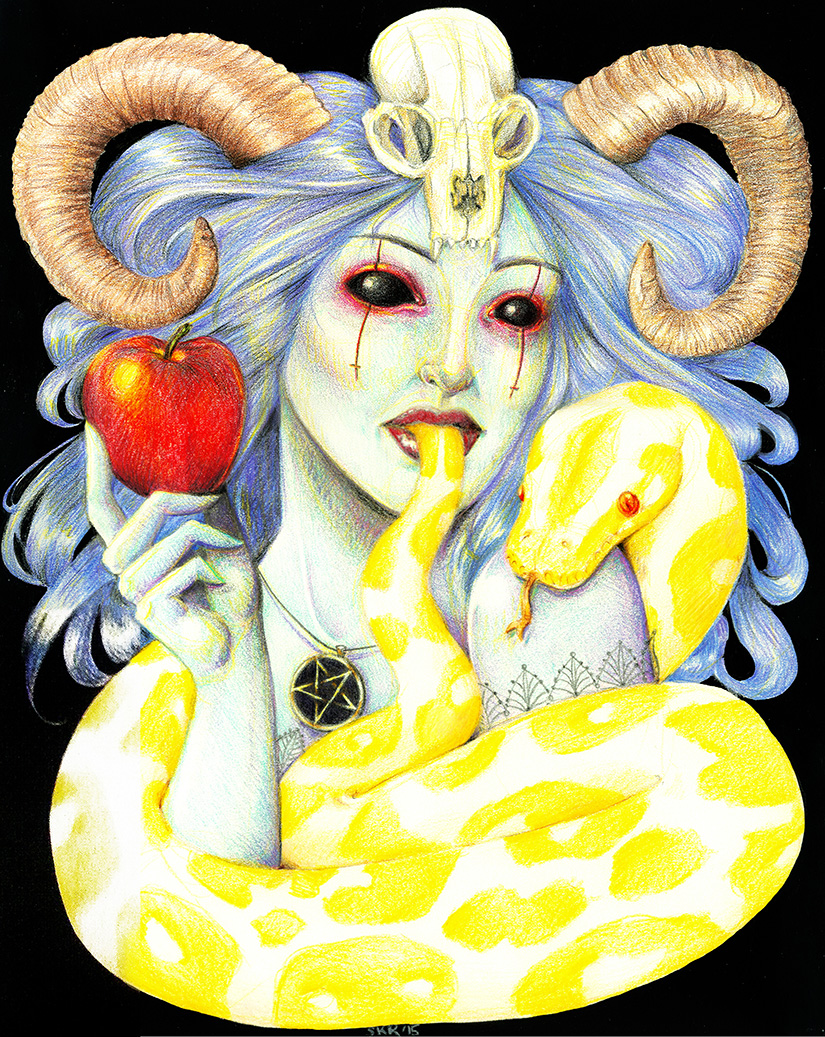 Samantha Roman "Lilith"
Brooklyn, NY – Church of Satan High Priest, Magus Peter H Gilmore, has curated an art exhibition and accompanying book to open at Stephen Romano Gallery in Brooklyn, New York. The Devils Reign – Brooklyn features artwork by many of the world's best known tattoo artists, and heavy metal illustrators, including Derek Hess, Tim Lehi, Derek Noble, Timothy Hoyer, Zac Sheinbaum, and Jondix. About 30 selected works are included in the Brooklyn exhibition. The Devils Reign first premiered last December at Florida based HOWL Gallery/Tattoo and has since received worldwide media attention.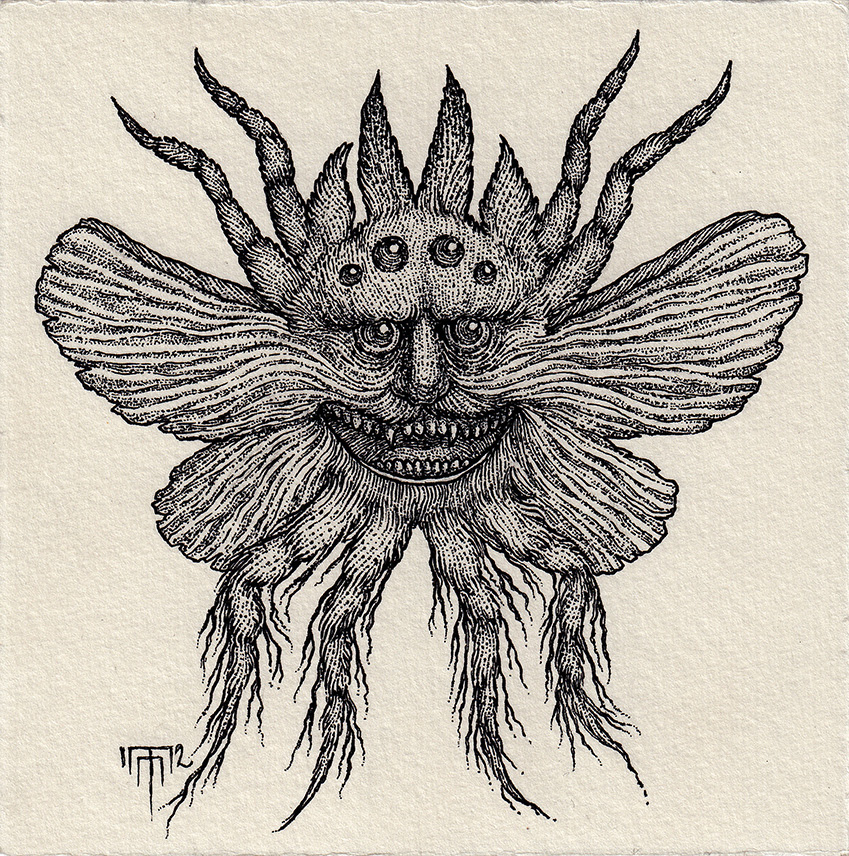 Michaelanthony Alton Mitchell "Aesmodaios"
The Devils Reign features images depicting devils and dark gods from current and past cultures, as well as monstrous characters inspired by H.P. Lovecraft's Cthulu mythos. The Satanic Bible, first published in 1969 and written by Church of Satan founder Anton Szandor LaVey, was used as inspiration for the exhibit. Artists referenced LaVey's roster called The Infernal Names which features a list of more than 50 devilish deities compiled from world mythology, including Satan, Lilith, the Greek fertility god Pan, Dracula, Loki, and even Hindu divinities Shiva and Kali. This is the first show and published art book of its kind associated directly with the Church of Satan.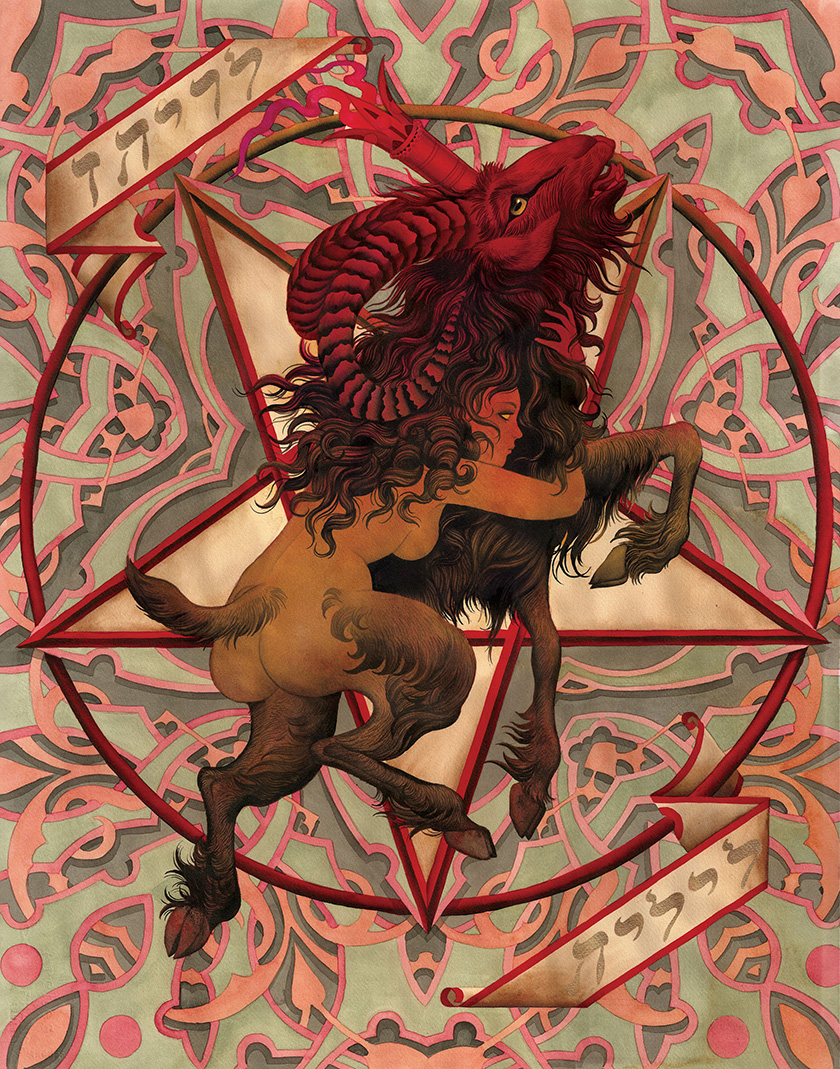 Alex Snelgrove "Star of the Magi"
Notable artists in the exhibit include rock poster icon Derek Hess, whose work is included in the collection of The Louvre Museum in Paris and The Rock N Roll Hall of Fame. Modern day tattoo legends Tim Lehi, Derek Noble, Dusty Neal, Curt Baer, Uncle Allan, and Timothy Hoyer all accepted invitations to participate. Well known heavy metal album illustrators such as Seldon Hunt, Shaun Beaudry, Palehorse, and Florian Bertmer also contributed artwork. Stylistically, the works range from the gothic and grotesque to art influenced by Japanese and traditional tattooing styles.
Andy Howl "Tchort"
The Devils Reign hardcover book features art from the exhibition as well as many additional pieces not seen at the Brooklyn exhibition. A small quantity of books will be available for purchase at the opening reception. The books are also available online at howlbooks.net and amazon.com.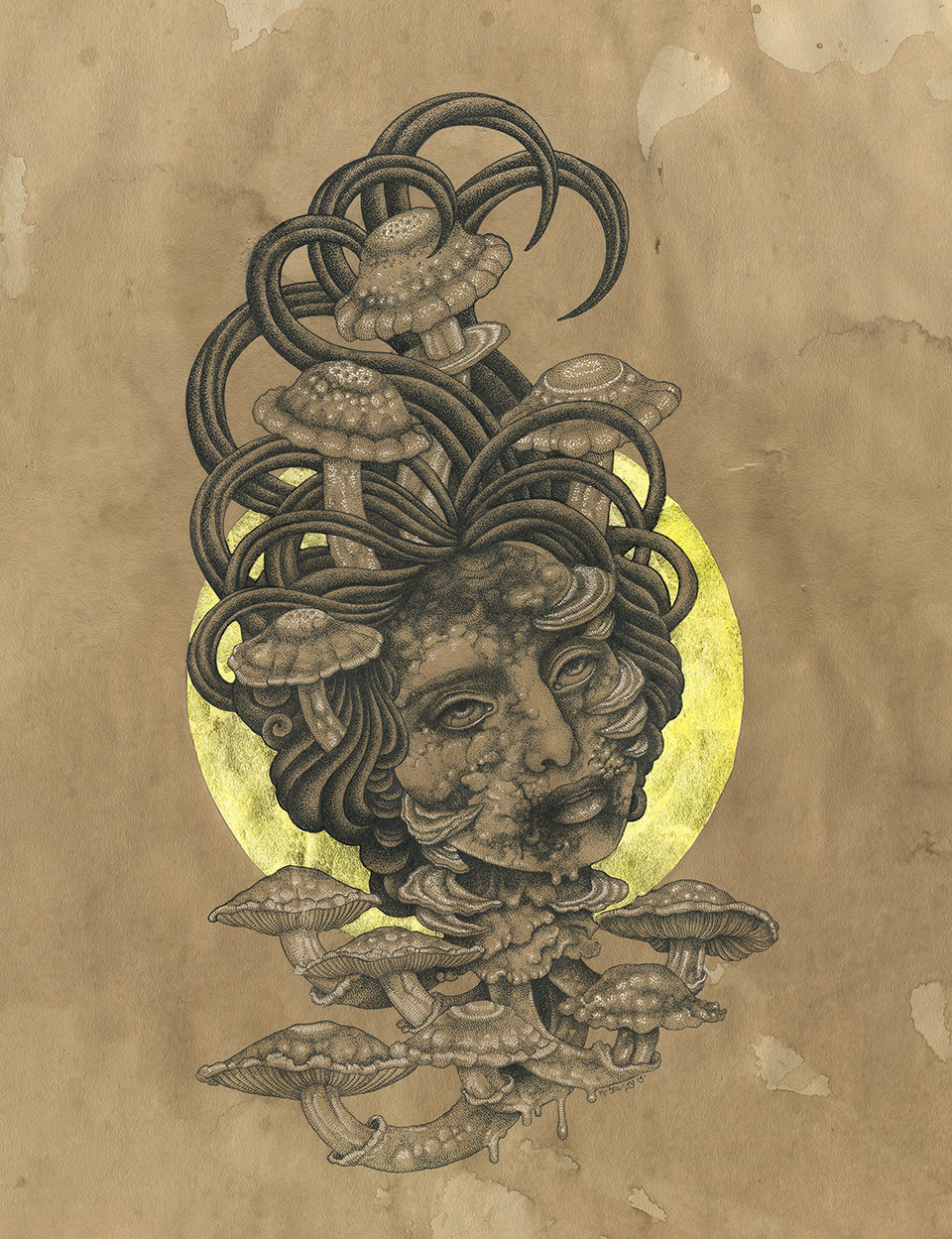 Shaun Beaudry "Lilith"
From Gilmore's introduction: "For The Devils Reign, our artists work in many styles to evoke the fantastic and demonic. Their renditions of the dread names from Anton LaVey's The Satanic Bible serve as keys to unleash oft-hidden aspects of the human psyche. As he said himself, "There is a beast in man that should be exercised, not exorcised!." Devilish art may mock authority, frighten the gullible, and embody complex emotions. Here you'll find gateways for self-reflection, for opening one's mind to unique perspectives."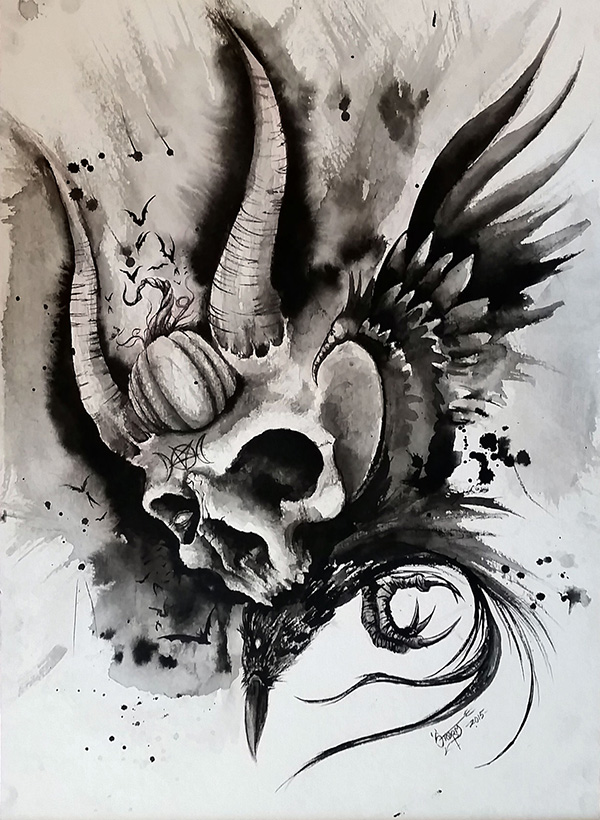 Storm Anderson "Halloween Death Mask of Hecate"
Curator Gilmore has also noted that, "For the first time, the legendary denizens of Hell as denoted in LaVey's The Satanic Bible are evoked in brilliant, blasphemous detail."
For further information and visuals please contact Stephen Romano 646 709 4725 romanostephen@gmail.com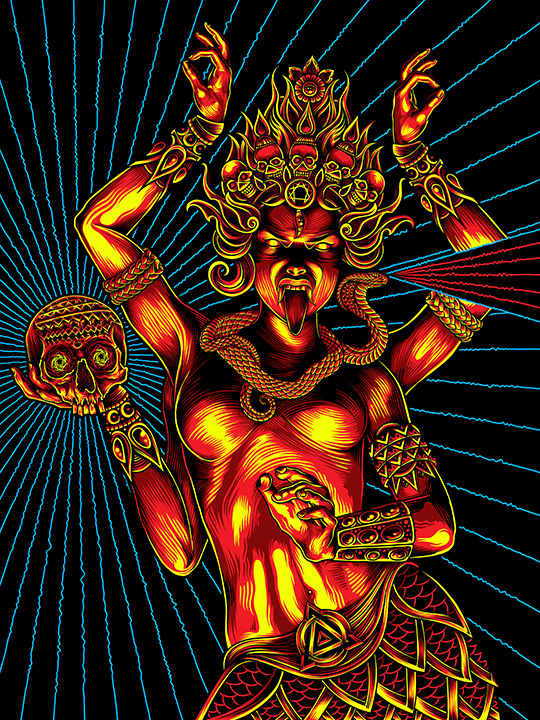 Pale Horse "Through the Gateway"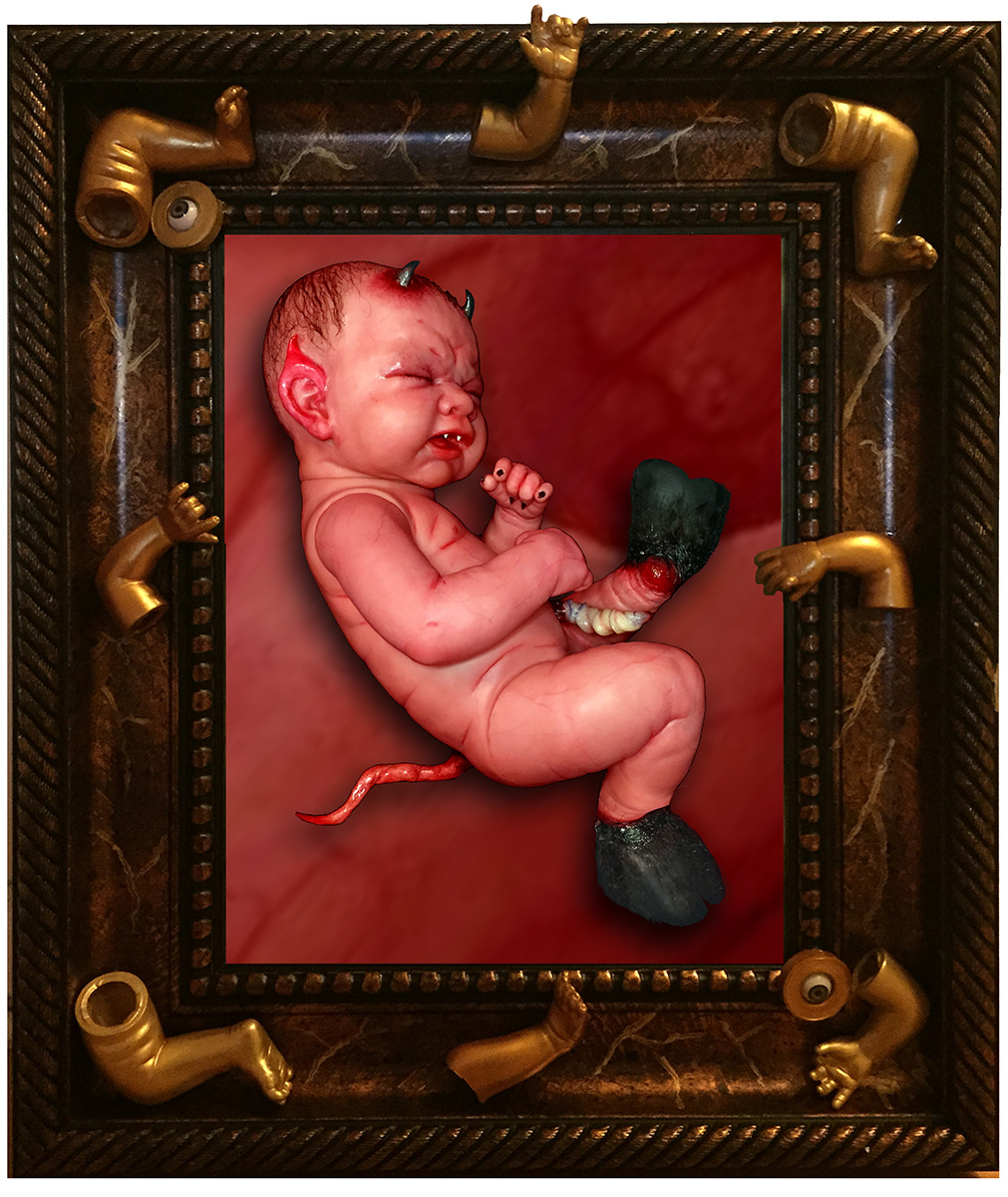 Marilyn Mansfield "Demon Seed"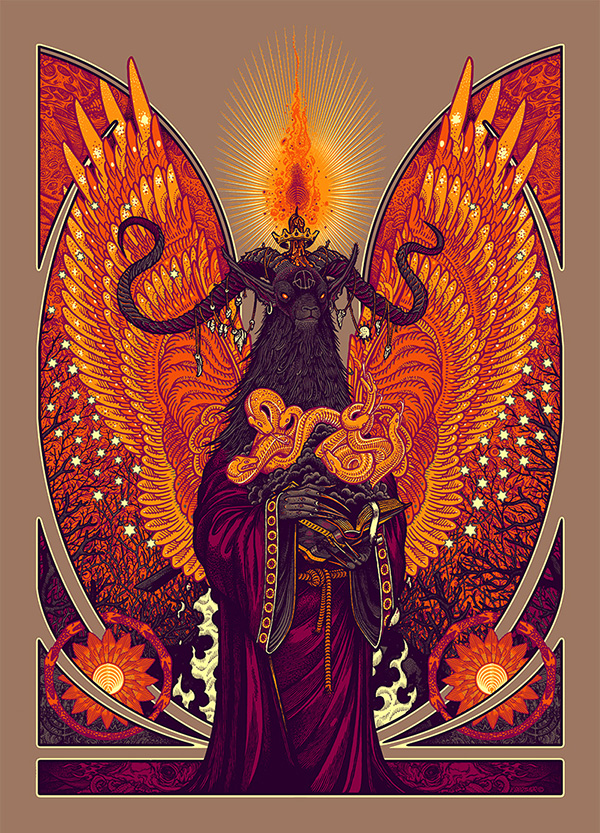 Florian Bertmer "Seven Serpents"
Uncle Allan "Mephisto"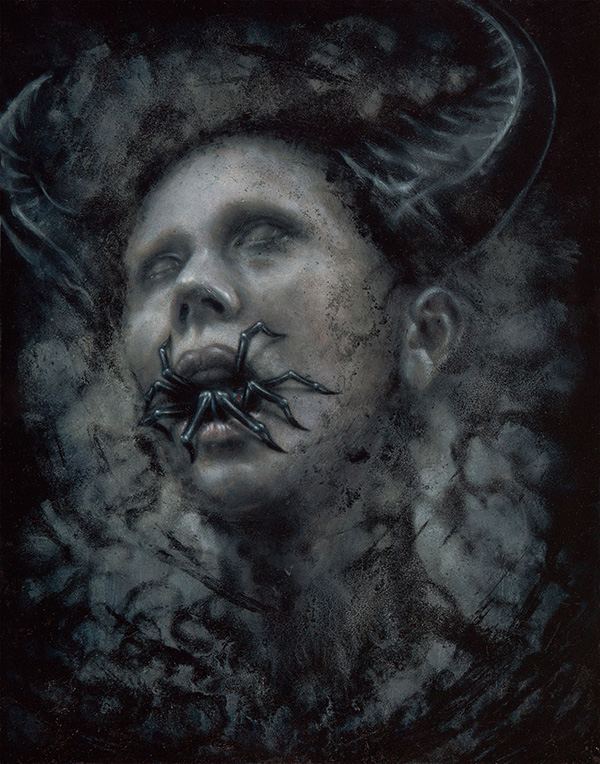 Francisco D "The Black Garden (Lilith)"
Jondix "Baphomas"