Opening reception of " "OPUS HYPNAGOGIA: Sacred Spaces of the Visionary and Vernacular" July 18 2015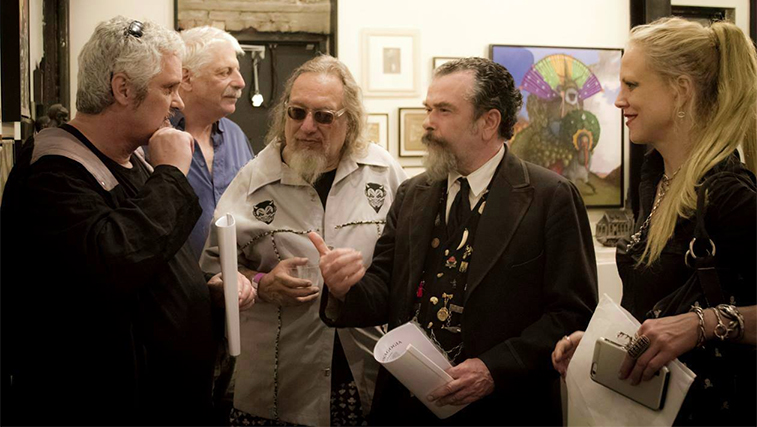 Opening of OPUS HYPNAGOGIA at Morbid Anatomy Museum .
Stephen Romano, Mark Jacobson, Larry Ratso Sloman, Mark Jacobson, Joe Coleman, Whitney Ward, 


with the works of El Gato Chimney, photo by Samuel D Gliner of BetweenMirrors.com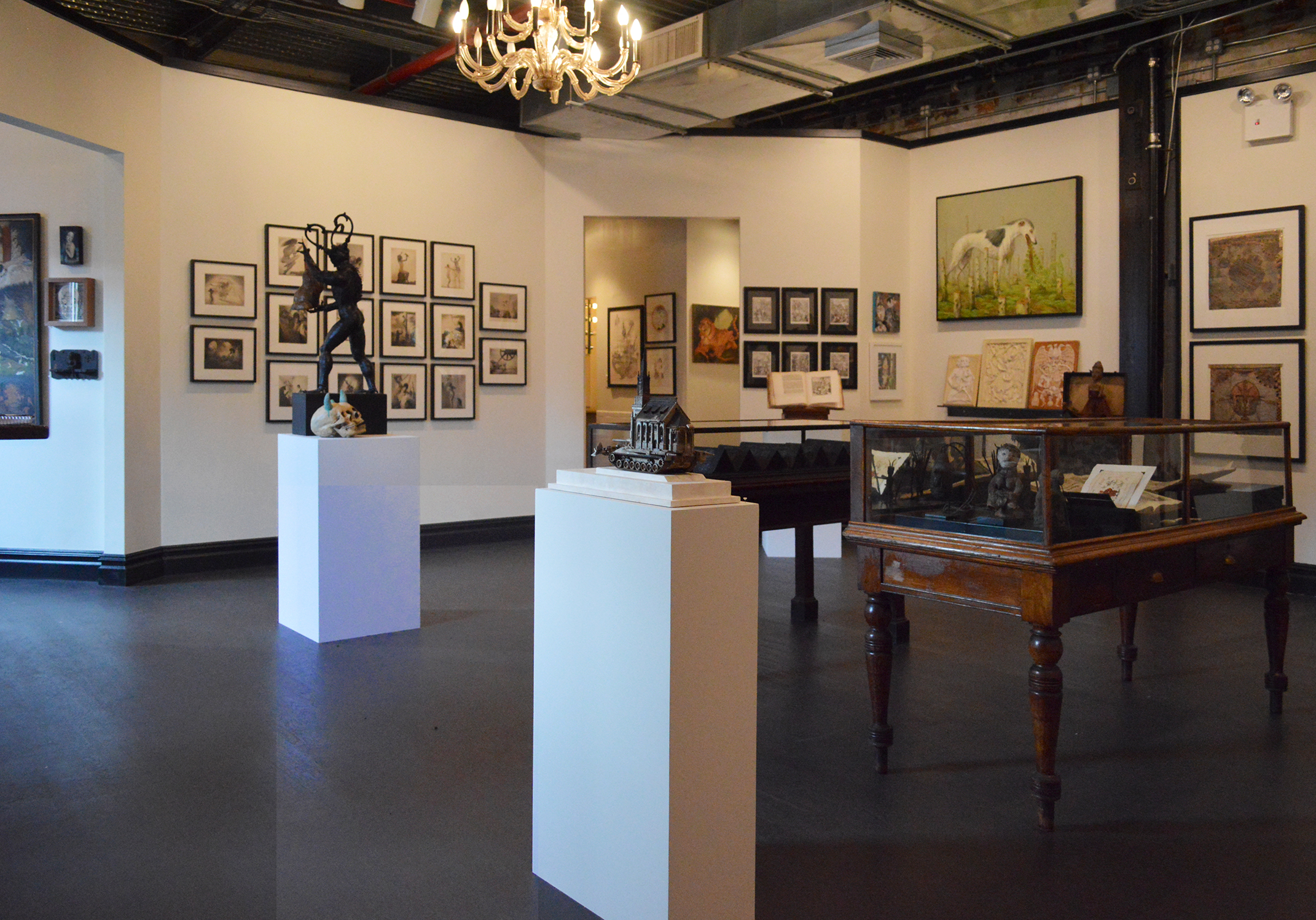 overview of  "OPUS HYPNAGOGIA: Sacred Spaces of the Visionary and Vernacular"
curated by Stephen Romano at Morbid Anatomy Museum, Brooklyn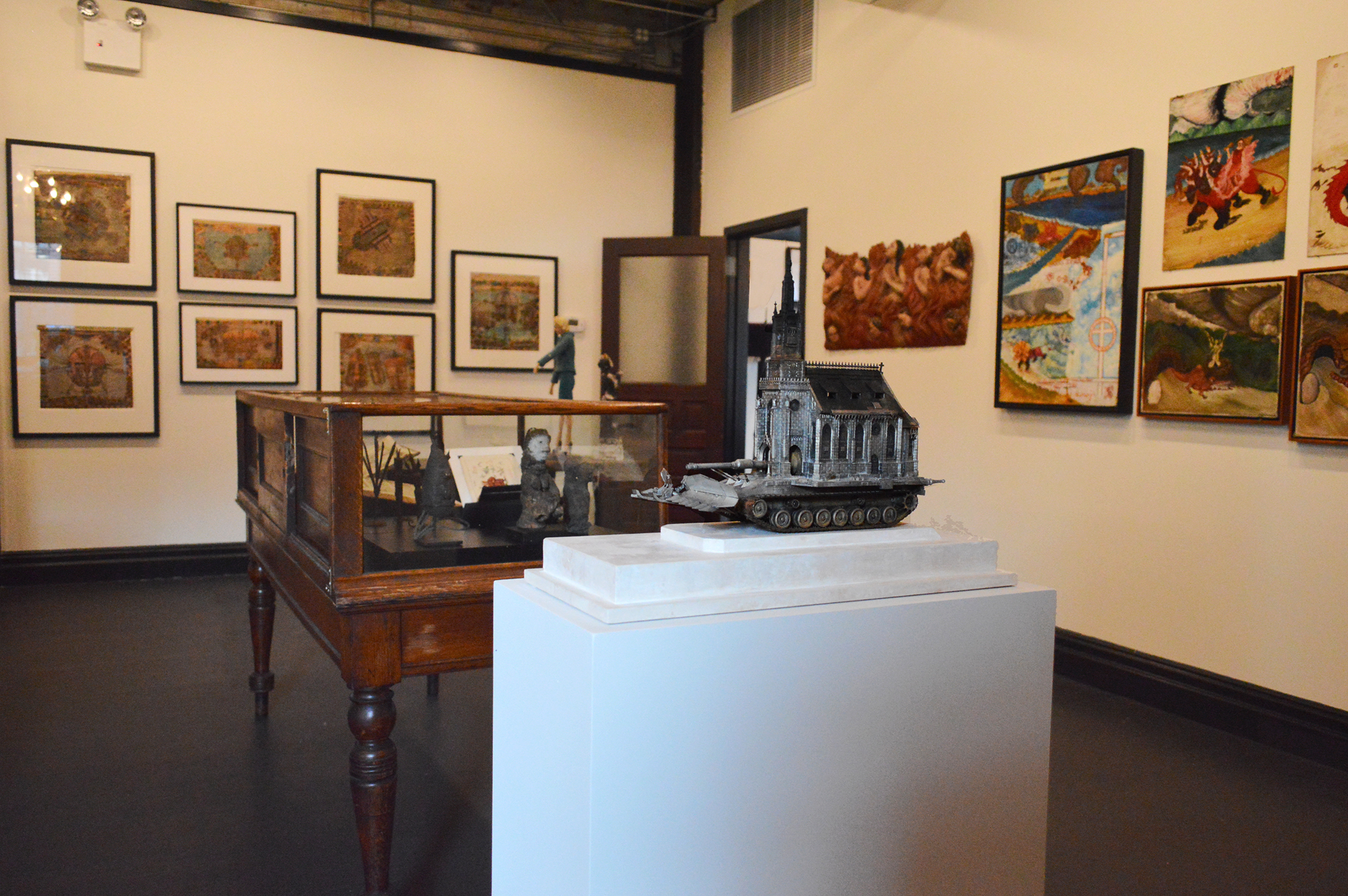 The Morbid Anatomy Museum and Stephen Romano are excited to announce a curated exhibition of works with an edgy occult or other worldly affect, reflecting both the Museum and the curator's common sensibilities and celebrating the Morbid Anatomy Museum first year in existence, July 18 through October 15 2015.
The exhibition is comprised of a blend of historical, "Outsider", and Visionary art, as well as contemporary works, vintage books, vernacular photography, folk sculpture, spirit photography, and many surprises. As with previous exhibitions curated by Stephen Romano, the design and content of the exhibition will be in constant dynamic motion throughout the course of the exhibition, adding, taking away, reflecting the synergistic relationship the curator has with the collection.
The exhibition, entitled "OPUS HYPNAGOGIA: Sacred Spaces of the Visionary and Vernacular", is composed of works from Stephen Romano's esoteric personal collection, as well as works sampled from the collections of associates such as the Collection of J.K. O'Rourke, David Wheatcroft Collection, Joey Lin's Annonymous Works Collection, David Winter Works on Paper Collection, John Foster Collection, The Ashé Collection of Randall Morris, Shari Cavin, Simone Morrisand and the inclusion of some of the most highly respected and recognized contemporary artists of our time including Kris Kuksi, Kymia Nawabi, Martin Wittfooth, El Gato Chimney, Rithika Merchant, Rene Allain, Caitlin McCormack, Jel Ena, Ellen Stagg, Lori Field, David Molesky, Erna Kd, Matthew Dutton, Lizz Lopez, Joseph McVetty, Peca, Barry William Hale and Hunter Stabler.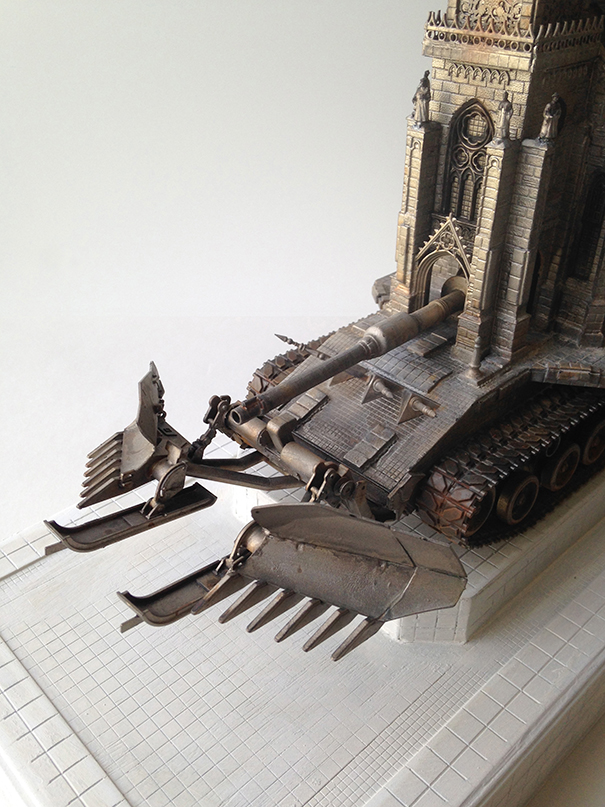 Kris Kuksi Churchtank type 12 2015 Courtesy of Stephen Romano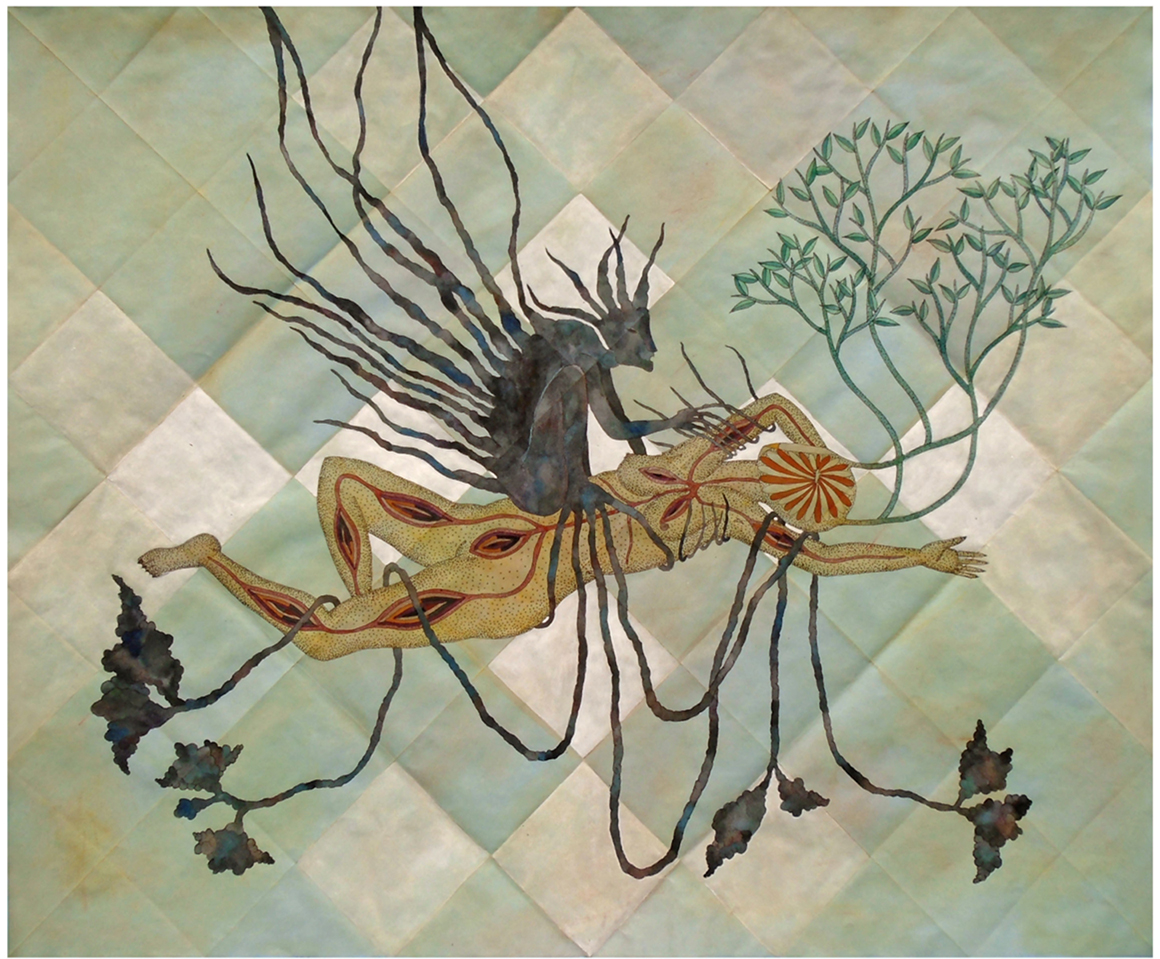 Rithika Merchant "The Intruder" (Sleep Paralysis), 2014, Courtesy The Artist.
El Gato Chimney Untitled Triptych 2015 watercolor on paper Courtesy The Artist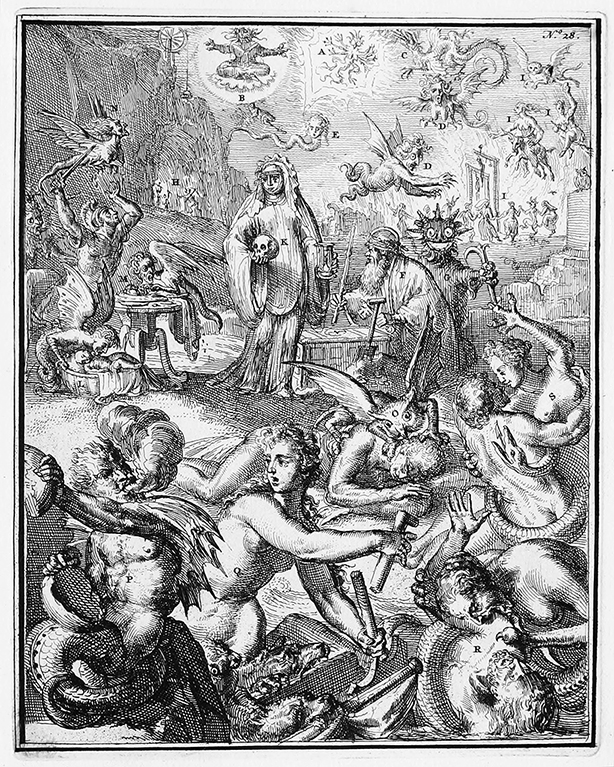 Romeyn de Hooghe, (1645-1708) Hieroglyphica — Symbols of Ancient People 1735  Courtesy of Stephen Romano
MYTHOLOGY-ICONOLOGY-EVIL-HYROGLYPHIC-Romeyn de Hooghe-1735 Plate 28 shows evil Gods. This plate shows A. Herimis; B. Joosje Tidebaic; C. dragon;
D. Abaddon; E. Temptation in the Garden of Eden; F. treasure keeper; G. treasure guard; H. goblins; I. pagan dance; K. De Witte Vrouw (the White Lady); 
L. Larunda; M. Harpies; N. Wrath of the harpies;  O. Nightmare; P. Earthquake; Q. Scylla; R. Charybdis; S. Syrtes.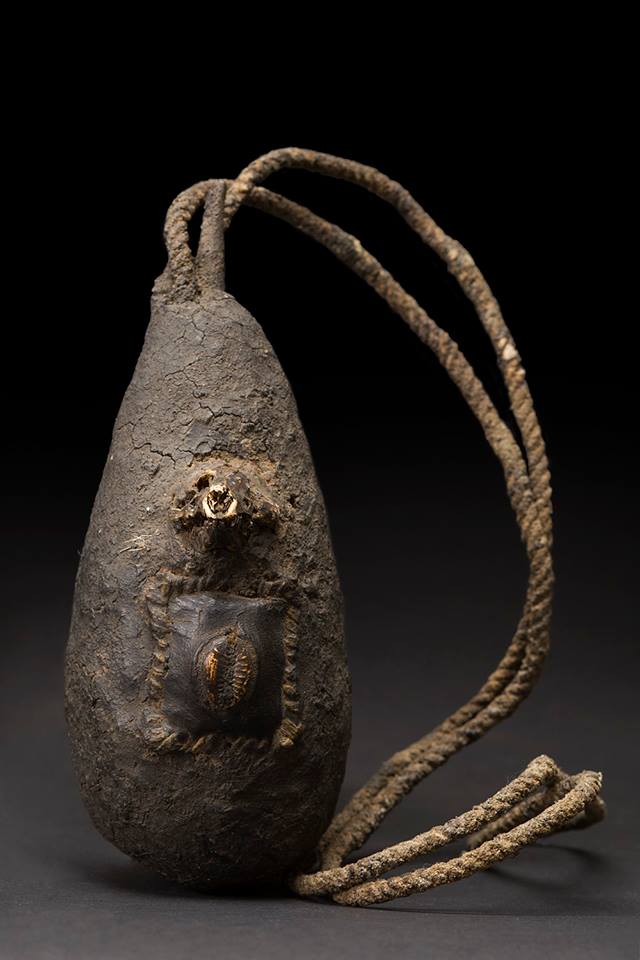 Fon Vodun Altarpiece, Benin Africa, ca. 1970s skull is either mouse or shrew Courtesy Cavin Morris Gallery 
The exhibition examines the place the visionary occupies as the "HYPNAGOGIA", defined as the experience of the transitional state from wakefulness to sleep: the hypnagogic state of consciousness, when mental phenomena such as lucid dreaming, hallucinations, and sleep paralysis occur. This "threshold consciousness" phase is in this exhibition linked with the visionary artist's creative process which empowers the artist with shamanic powers. The works presented are implied to have been created while the artist was in a similar state of heighten awareness through their own pursuit of creative fulfillment.


Some of the exhibition's highlights include works by America's earliest Visionary artist Charles Dellschau (1830 - 1923) whose illustrated flying machine according to the late renowned art writer Thomas McEvilley "seem to foretell an ascent to heaven for which the artist's soul has opened itself, partly through the activity of making his art. " Dellschau has been called "an outsider art master in the same league as Adolph Wölfli, Henry Darger and Martin Ramirez" (Raw Vision magazine summer 2013).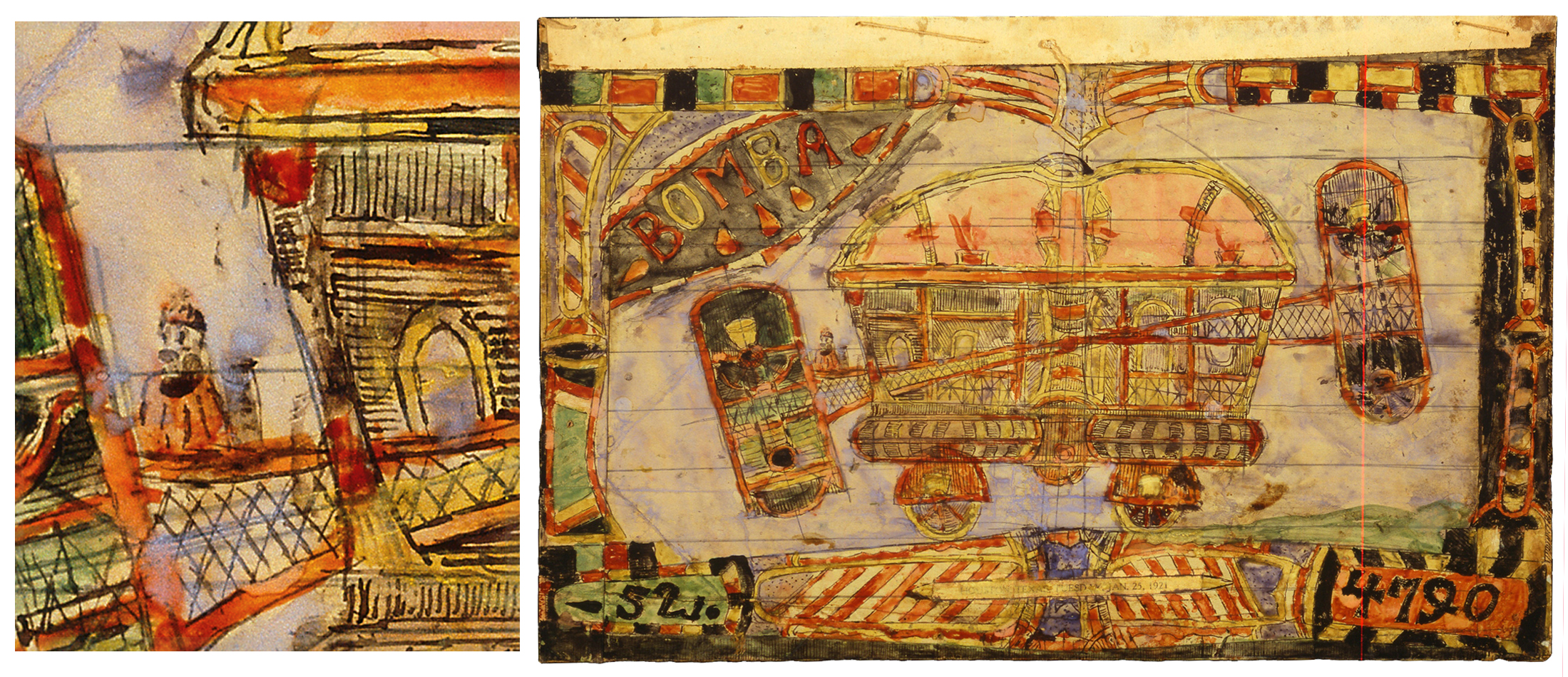 Charles A.A. Dellschau plate 4790 AERO BOMBA Jan 25 1921 watercolor and collage on paper Courtesy of Stephen Romano
Also included is the notorious William Mortensen (1897 - 1965) masterpiece series of photographs "A Pictorial Compendium of Witchcraft" (illustrated at the top) from 1926. Several of these works have been widely reproduced in publications such as The Guardian, LA Times, Smithsonian Magazine, and Huffington Post among many others, and are considered to be quintessential examples of the artist's work. This exhibitionis only the third time this series is assembled for public view.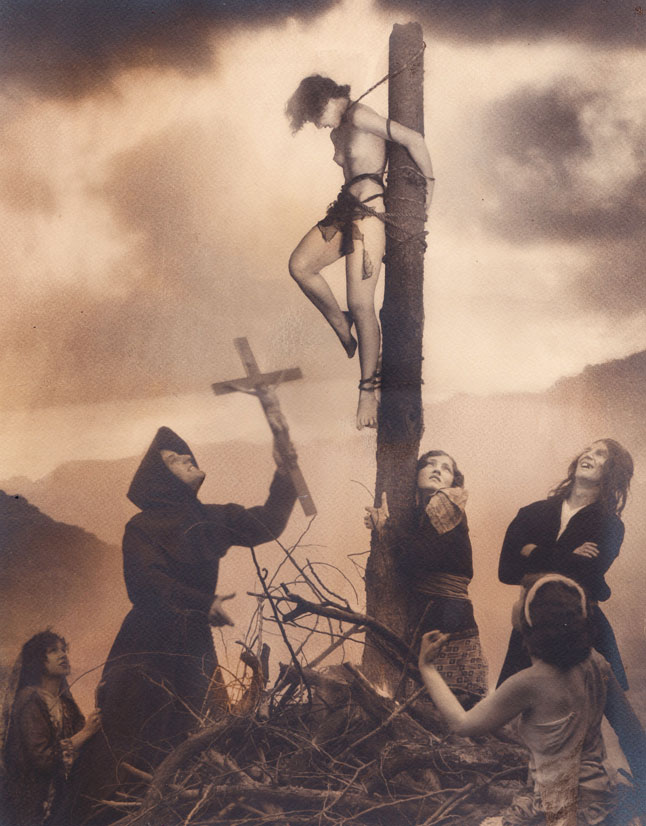 William Mortensen (1897 - 1965)  "A Pictorial Compendium of Witchcraft" 1926
Courtesy The Museum of Everything.


The exhibition also features for the first time ever a selection of works by American visionary artist A. Fiorello (dates unknown), of whom we know very little except that he apparently lived in New York c. 1960 - 1980, and whose works were found in a New York antique shop. Fiorello produced painted plaster reliefs which depict some of the most visceral imagery in the cannon of Visionary art.


An expansive selection of the works of renowned "outsider" William Blayney (1918 - 1985) is also on view, some of which have never before been seen. Blayney was a self ordained Baptist minister who traveled around in his camper and gave sermons in the parking lots of shopping malls. The surviving paintings, which have been exhibited in several prominent American and European museums such as the Philadelphia Museum, The Newark Museum and the Museum of American Folk Art were used as his visual teaching aids.

A. Fiorello (dated Unknown) c. 1960 - 1980 New York
Courtesy of Stephen Romano

William Blayney c. 1960's Whore on Beast
Courtesy The Museum of Everything.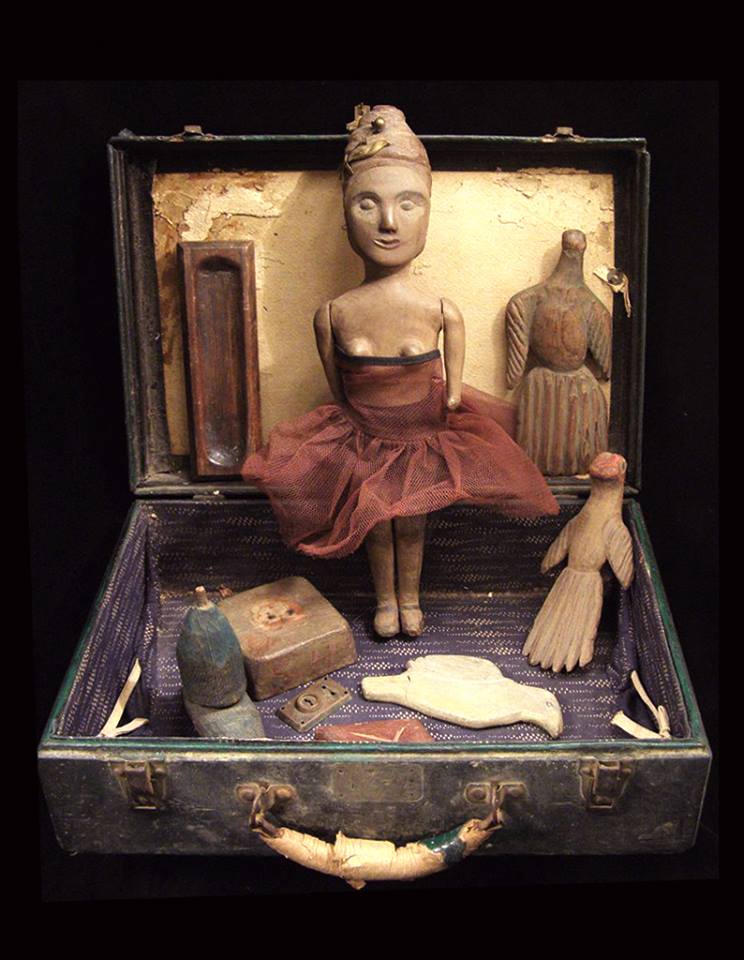 Early 20th Century Box with, Strange Folk Art Carvings
 Found in the Midwest, Wood, paint, metal, stone, lace, Courtesy Anonymous Works / Joey Lin
The exhibition also includes a selection of esoteric ephemera such as a large banner from c. 1900 from the International Association of Rebekah Assemblies, a female auxiliary of the Independent Order of Odd Fellows, an authenthic Bizago cult voodoo altar, a selection of spirit photos dating from the mid 1800s, original books and plates from Jacob Bohme from the mid 1600s, an original copy of the book "Lectiones Memorabiles" from 1671, an "Anima Sola", and a depiction of souls in purgatory popular in Latin American culture, articles used in African voodoo ritual, among many other surprises.

1682 Jacob Böhme Courtesy of Stephen Romano

Lori Field "The Little Death" 2008

Spirit photo of DD Home, medium c. 1865
Courtesy of Stephen Romano

Hermon Finney "Mask" c. 1960's
Courtesy The Museum of Everything. 


"Lectiones Memorabiles" from 1671 Courtesy of Stephen Romano

 Carte De Visite c.late 19th century
Courtesy John Foster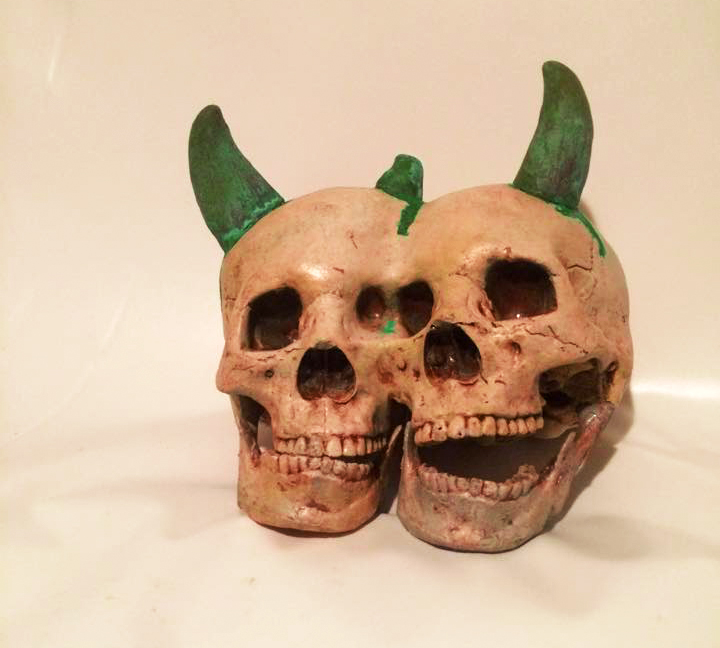 Matthew Dutton  "Fauna Gomorrah" 2015
Courtesy The Artist.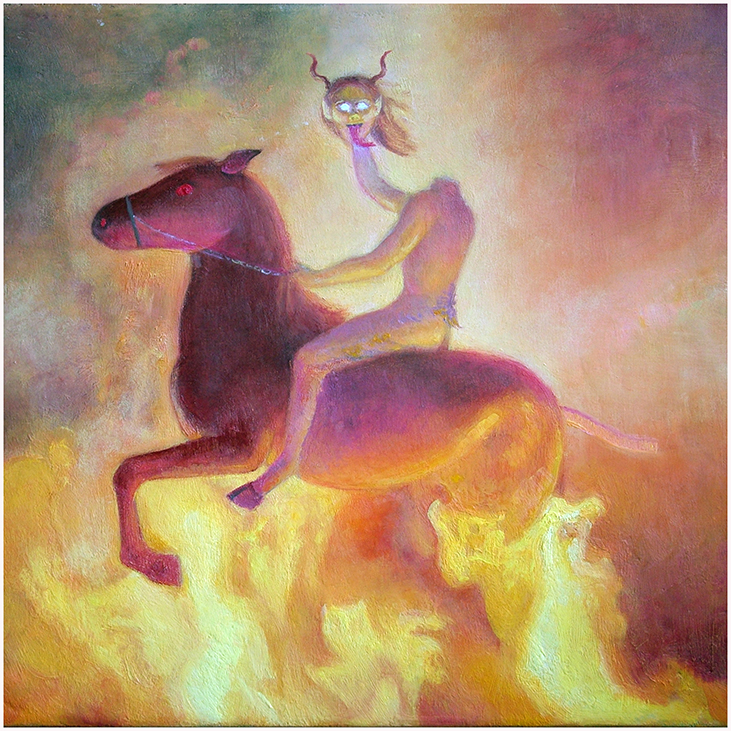 David Molesky "Krampus of Sleepy Hollow" 2013
Courtesy The Artist.


Hunter Stabler "Tetris Graviton" 2014 hand cut paper
Courtesy The Artist.

                



Martin Wittfooth "Shaman I" 2014
Courtesy The Artist.

                

Rebekah Assemblies banner, Bizango Voodoo Altar

Anonymous Photograph c. 1930's Courtesy John Foster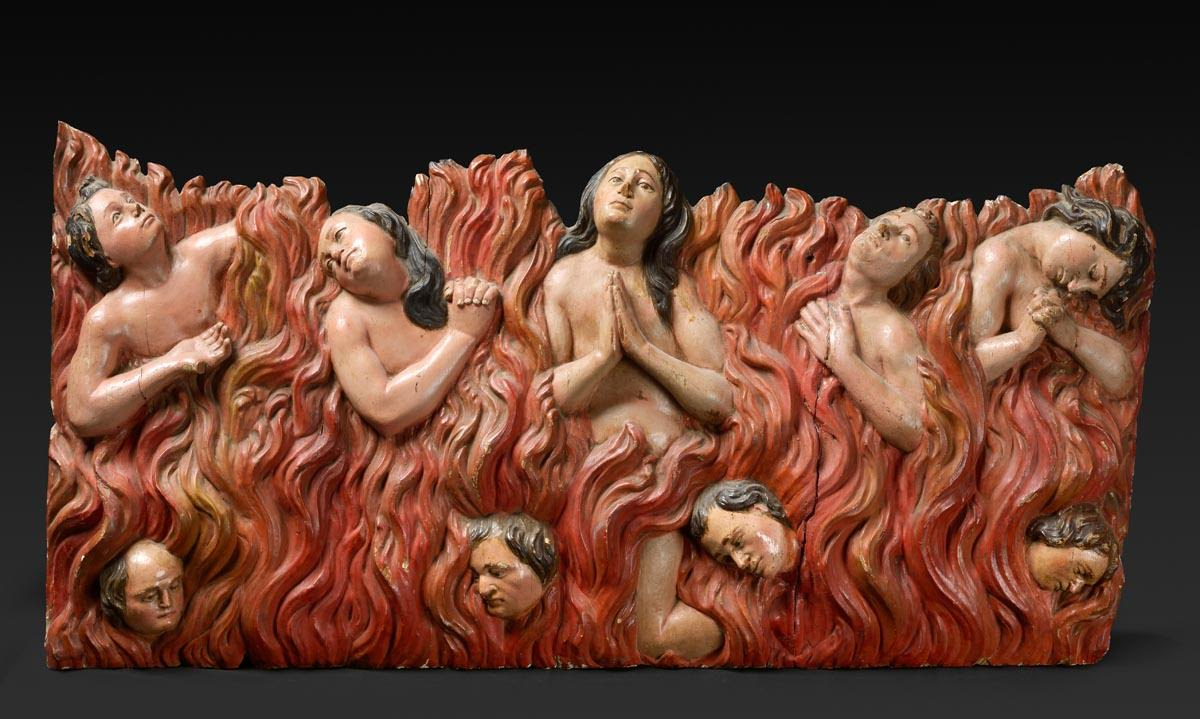 Anima Sola Depiction of souls in purgatory, mid 19th Century 
Courtesy David Wheatcroft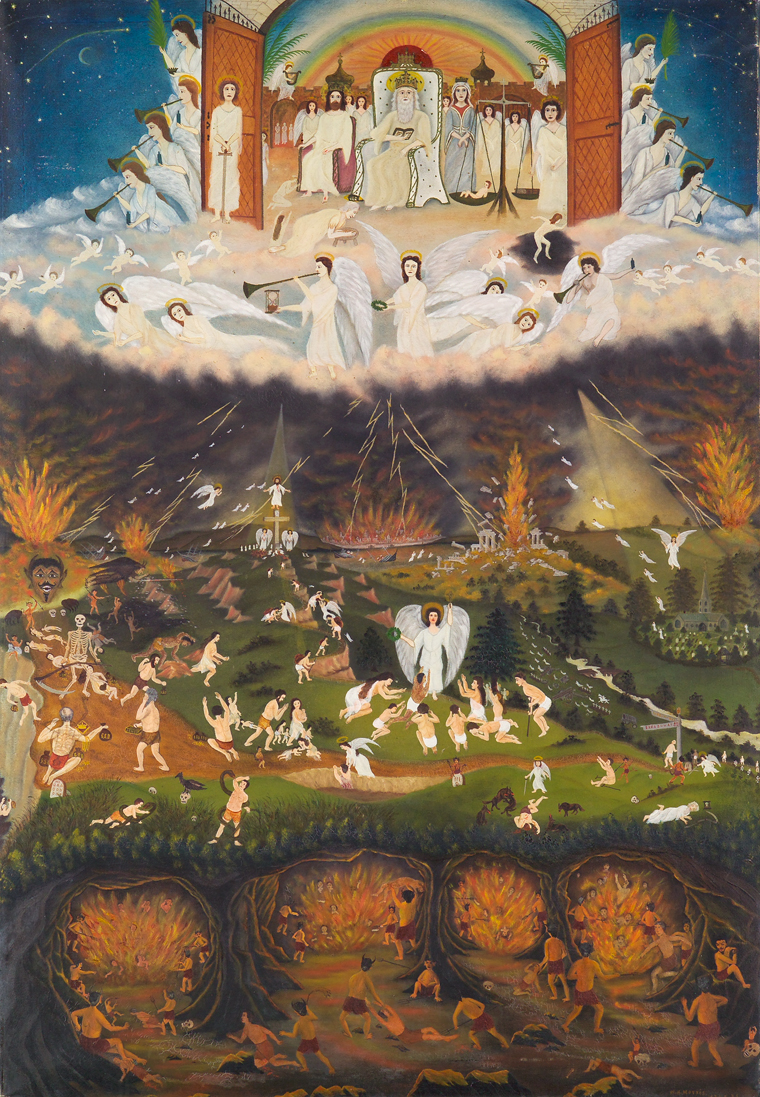 Anonymous "Apocalypse Painting" Oil on canvas c.1925  Courtesy of Stephen Romano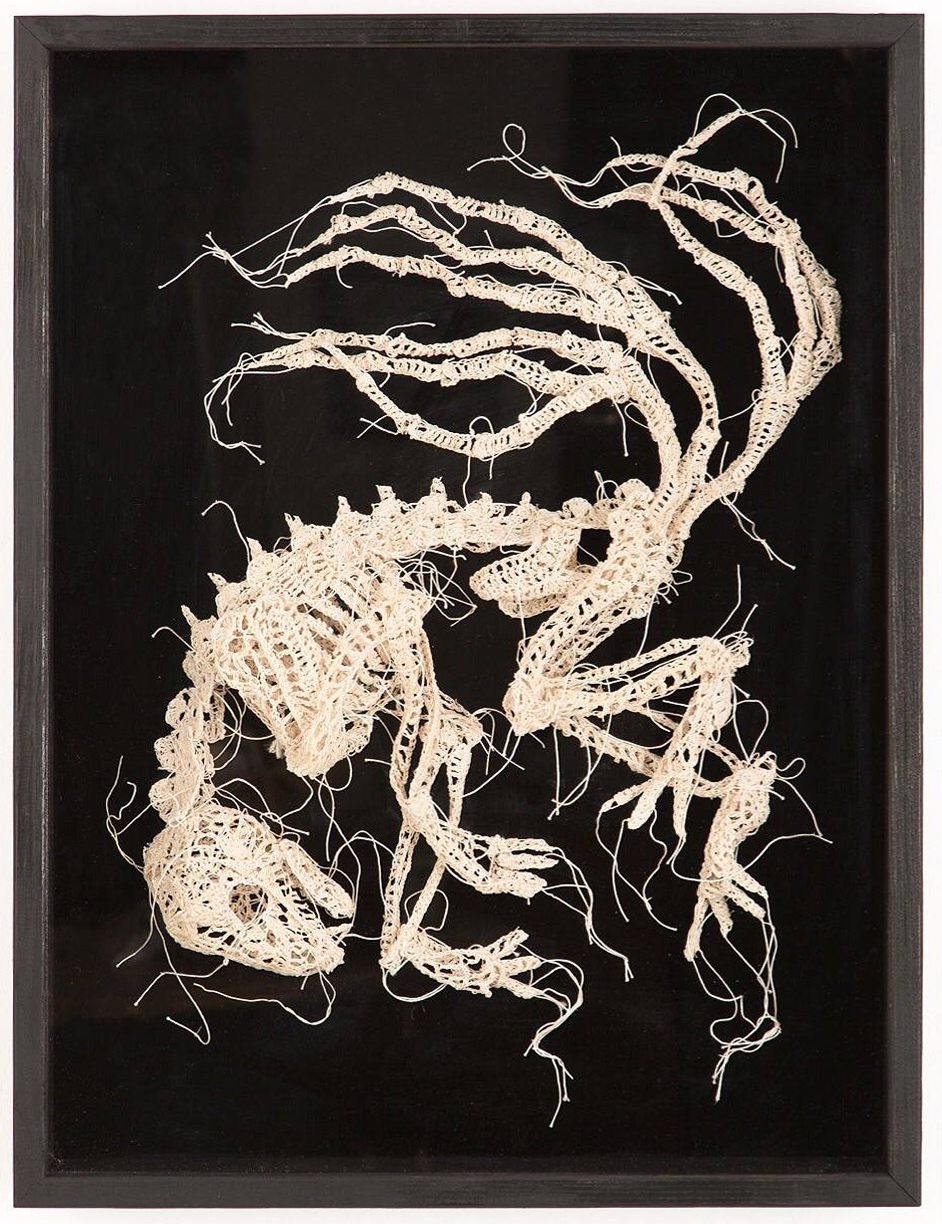 Caitlin McCormack Homewrecker 2014 crocheted cotton string and glue
Courtesy The Artist.


About the Morbid Anatomy Museum
The Morbid Anatomy Museum is new non-profit institution dedicated to the celebration and exhibition of artifacts, histories and ideas which fall between the cracks of high and low culture, death and beauty, and disciplinary divides.
The Morbid Anatomy Museum hosts the kind of temporary exhibitions that very few larger museums can produce; shows both large and small, drawing on private and public collections and calling on the scholarship and expertise of the greater Morbid Anatomy community. Its permanent collection makes available a research library of over 1,000 books on topics such as art and death, art and medicine, the history of collecting, sexology, and the uncanny and the sublime. It also houses artifacts such as memorial artworks, Catholica, medical moulages, postmortem photographs, magic lantern slides, Diableries, death masks, wax embryological models, natural history specimens, and other artworks and artifacts from around the world.
The Museum hosts numerous lectures, screenings and demonstrations showcasing our unique and dedicated community of academics, artists, collectors, rogue scholars, and autodidacts. The Museum also hosts weekly workshops on topics such as anthropomorphic taxidermy, Victorian hair art mourning jewelry, and insect shadowboxes. In addition, it organizes popups around the world in cities like Barcelona, Amsterdam and London, as well as field trips to Mexico, Baltimore, New Haven and more.
Find out more at http://morbidanatomymuseum.org.

Stephen Romano Gallery is a new addition to the Brooklyn art gallery community, having opened its doors in April of 2014 in Dumbo and presently relocating to open an exhibition of works by Rithika Merchant in September of 2015.
Prior to opening the current gallery, Stephen Romano was a private art dealer for 15 years specializing in masters of self-taught and visionary art such as Henry Darger, Martin Ramirez, Charles Dellschau, Bill Traylor, Darcilio Lima, and many others. The Gallery's most recent exhibition El Gato Chimney's "De Rerum Natura" was well received and reviewed, as was the preceding exhibition "Trypophobia" by Colin Christian. Stephen Romano Gallery also mounted the most ambitious exhibition of works by pictorialist photographer William Mortensen to coincide with the release of the book "American Grotesque" published by Feral House.

Stephen Romano has been a participant in many art fairs including PULSE, The Metro Show, and the Outsider Art Fair.
In 2013, Stephen Romano produced a seminal 330-page monograph on visionary artist CHARLES DELLSCHAU designed by Marquand Books and distributed by DAP. The book generated several positive reviews from a wide variety of publications such as Bookforum, Raw Vision Magazine, The Atlantic, Slate, Antiques, and the arts and Design Observer, among many others. With an introduction by Stephen Romano, the book features the final published essay by renowned art writer Thomas McEvilley, as well as contributions from the founder of The Museum of Everything, James Brett, and the curator of Smithsonian Museum of Aerospace, Thomas Croutch.
In the same year, Romano also published the first ever post-mortem catalog of works by Brazilian visionary Darcilio Lima and most recently a catalogue of an previously unknown photographic series from 1925 by William Mortensen entitled "A Pictorial Compendium of Witchcraft," with an introduction by A.D. Coleman and essay by Tom Pattersen. Most recently, Stephen Romano Gallery had the honor of publishing a catalog of works by Pavel Kraus with an essay by David Ebony, as well as a catalog for Chinese artist Lu Zhang with essay by Robert C. Morgan. In 2015, the gallery produced a catalog of the "TRYPOPHOBIA" exhibition by Colin Christian with texts by Kris Kuksi, Allison C. Meier and Samuel D. Gliner. The most recent catalog was the gallery published was on Italian artist El Gato Chimney with texts by Martin Wittfooth, Pamela Grossman and Michela D'Acquisto.
For further information and visuals please contact Stephen Romano at romanostephen@gmail.com
or info@morbidanatomymuseum.org at The Morbid Anatomy Museum