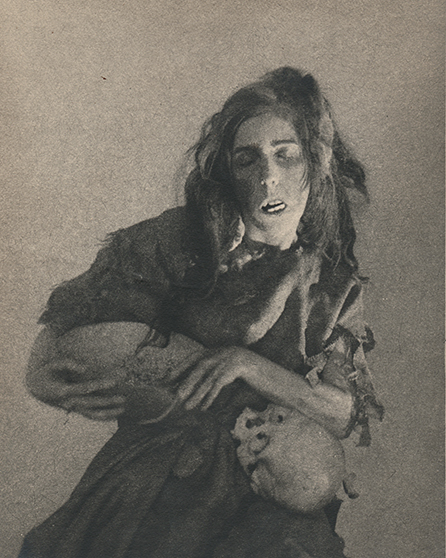 William Mortensen (1897 - 1965 )The Hag circa 1924 - 1926 manipulated photograph
March 2018 - Dealer, collector and curator of Outsider, Visionary, Esoteric and Occult Art, STEPHEN ROMANO GALLERY is pleased to announce it's participation in the engaging SCOPE ART FAIR opening March 8 and continuing through March 11 at the Metropolitan Pavilion -125 W 18th St, New York, NY 10011. This will be the gallery's second year [presenting work at SCOPE.
Last years presentation of a solo booth of "The Anti-Christ of Photography" William Mortensen was an enormous success, prompting the gallery to return for a second time with a curated booth including important works by William Mortensen (1897 - 1965), Charles Dellschau (1830 - 1923), Wolfgang Grasse (1930 - 2008), Vintage Spirit Photography dating from 1880 through 1930, as well as contemporary art by Barry William Hale, India Evans, Alexis Palmer Karl and Vincent Castiglia.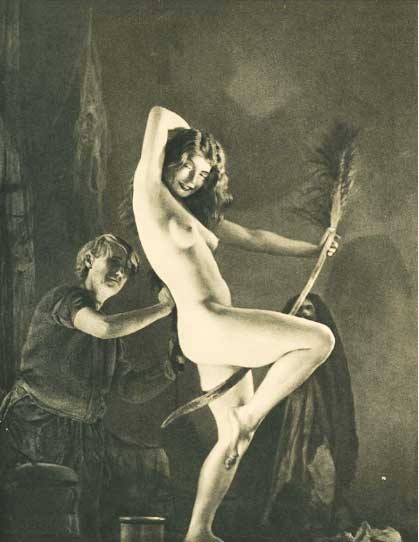 William Mortensen "Preparation For The Sabbath" c. 1928 manipulated photograph
William Mortensen (1897 – 1965) was an American Photographer, primarily known for his Hollywood portraits in the 1920s-1940s in the pictorialist style. "Ansel Adams called him 'the Antichrist' and wanted him written out of history. But William Mortensen's grotesque photographs of death, nudity and torture and are now having their day.. A monograph on the artist was produced by Feral House in 2014 to great acclaim, including major articles on the artist in The Guardian, The LA Times and The Smithsonian. In addition, many exhibition have included the art of William Mortensen, including "American Grotesque" at Stephen Romano Gallery, as well as exhibitions at The Museum of Old and New, Scope Art Fair, The Metro Show, The Outsider Art Fair, as well as a major solo exhibition at the Dark MoFo Festival curated by Barry William Hale in 2018.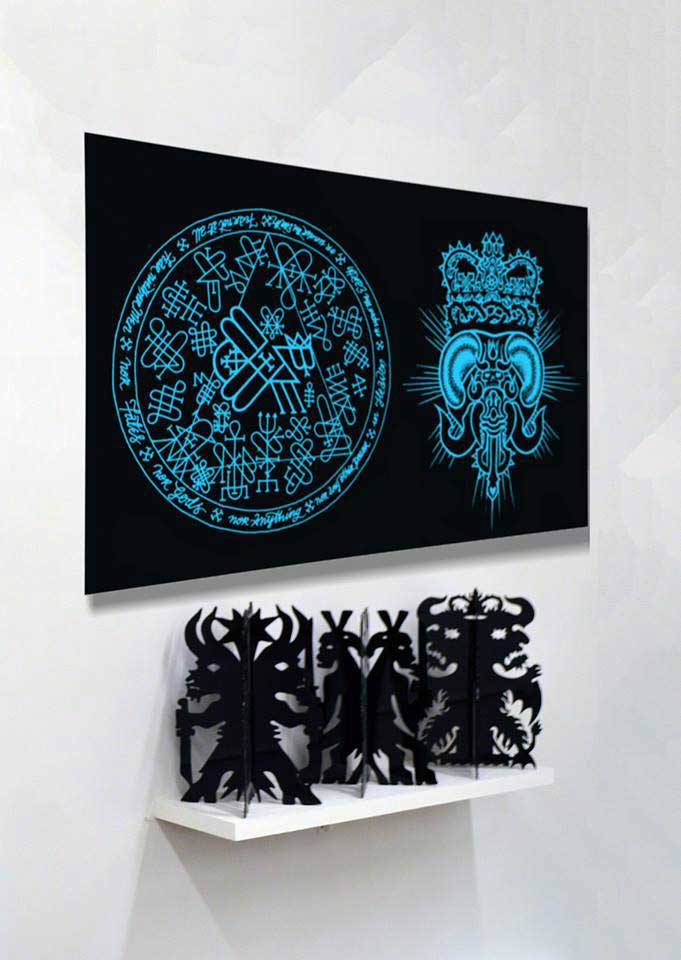 Barry William Hale LEGION 49: Circle of Conjuration Printed on Aluminum and Plexiglass cutouts 2017
Barry William Hale has been described as an occult artist, while a superficially germane term; on closer inspection it radiates a self-consciously unwelcome specificity. Too redolent of those early twentieth century outsider artists whose work depended on visionary states, specific knowledge of ancient mysteries, or some other Qabalistic obscurity. Hale, it should be noted, has certainly done nothing to dissuade such labels, mischievously luxuriating in such terms when fitting.
It is apparent from his biography that he is, for example, an outspoken member of the OTO. But such groups encourage individual exploration, undoubtedly an attraction to Hale whose very genealogy radiates the outlaw.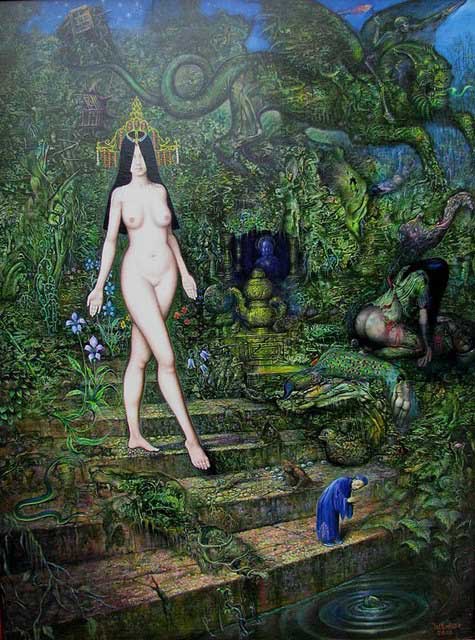 Wolfgang Grasse (1930 - 2008) "South East Garden / Garden of Ultimate Love" 1990 Acrylic on Panel
Wolfgang Grasse was born in Dresden, Germany, in 1930. After private artistic training first by his grandfather, Feidrich Grasse, and then later studying in Italy, he returned to a partitioned post-war East Germany. There he was imprisoned for his cartoons critical of Soviet propaganda. He was sentenced to serve 25 years in prison. After serving 8 years of this sentence, he was granted an amnesty and released. He migrated to Australia in 1966 & has had numerous exhibitions.
Wolfgang's art revisits medieval themes in which we find medieval weaponry replaced by that of the 20th century: the machinery of 20th century warfare which was capable of fulfilling the medieval prophesies borne of the plague. His paintings must be seen in the context of MAD – mutually assured destruction – at the height of the cold war. And although we, the public, now feel safer, the weapons currently at our disposal – chemical and biological – can visit upon us a fate both more immediate and final than that of a nuclear war, albeit one less spectacular.
Wolfgang's style shares many elements with that of the Vienna School of Fantastic Realism: "Fantastic Realism cannot be compared with Surrealism as a garden cannot be compared with a jungle. The fantasy of the Surrealist comes from the subconscious without formal order or relation, whereas the Fantastic Realist uses his images selectively. He uses old and new symbols to express his art purposefully and to show that the human situation never really changes in its eternal truths. The automatism of images of the Surrealist are a sharp contrast to the meaningful symbolism of the Fantastic Realist." Wolfgang Grasse
India Evans "The Light Within" 2009 and "A Whisper In The Dark World" 2017
India Evans is a NYC born and raised mixed media artist who is best known for her intimate and poetic collages. Evans was educated at Scuola d'Arte Lorenzo de Medici in Florence, Italy and Accademia di Belle Arti in Perugia, Italy. In 2000 Evans received a BFA from The American University.
Evans work has been exhibited at galleries and museums worldwide including Sala Uno Gallery in Rome, Italy, Na Solynanke Gallery in Moscow, Russia, Fred Gallery in London, UK, Knoedler Gallery in NY, the Kratzen Museum in Washington, DC, the Islip Art Museum in NY and the Nassau County Museum of Art in Roslyn, NY. Her work has been reviewed in The New York Times, The New York Sun, the NY Observer, Backstage,Time Out, Il Venerdi di Repubblica, Il Messaggero, Exhibart, The Paris Review and it was featured on R.A.I. TV. Between 2009 and 2013 Evans' collages were projected on a scrim for the set of Dante's Divina Commedia – Inferno (NY Fringe Festival, Prague Fringe Festival) and Oscar Wilde's Salome (The Flea Theater). India Evans was included in the exhibition "The Devil's House" at The Living Gallery Outpost, NYC October 2017.
The Art of India Evans "erotic energy is the ultimate creative force"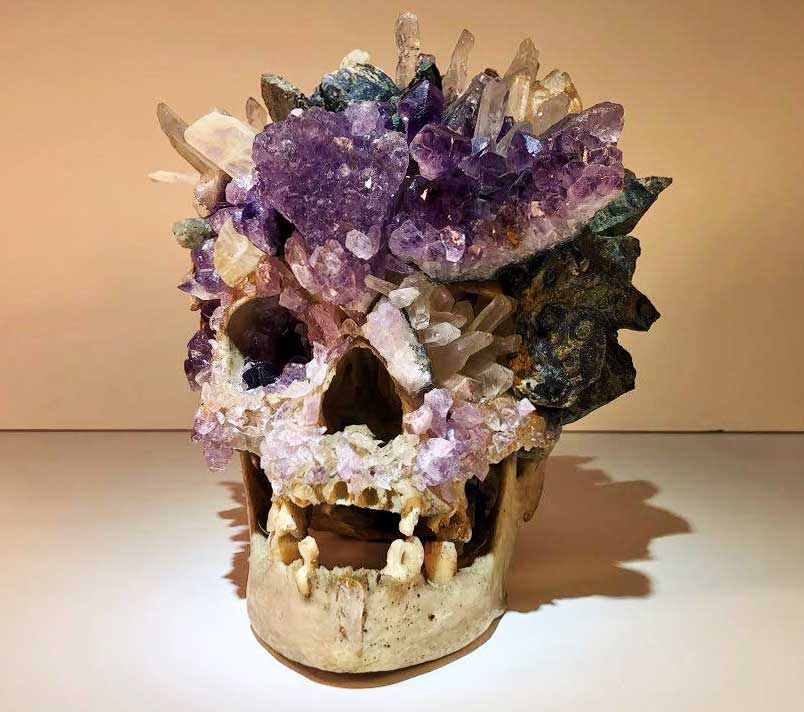 Alexis Karl "I've Kissed Your Mouth Filled With Jewels and Dust.", 2017 Human Skull and crystals.
Alexis Palmer Karl is a Multimedia artist who works in sculpture, painting, photography, film and dark ambient music with her bands LEX and Parallax Born, who release their music with Onyudo Records.
Alexis's work has been exhibited in the states and internationally, with performances at the Whitney Biennial and Guggenheim Museum, and is represented in New York by Stephen Romano Gallery. Alexis's work explores the reinventing of oracular magic and ritualistic objects and the redefining of the witch archetype.
The work reinvents sacred ritualistic objects, and presents a portrait of Oracles who, while bound by this mortal coil, can see a world beyond. Inspired by her scholarly research and lectures of historical accounts of witchcraft and folkloric magic spell books, Karl's work recasts and shifts the powerful Witch archetype.
Craig and George Falconer, SPIRIT PHOTOGRAPH circa 1930.
Vintage Spirit Photography including Craig and George Falconer from SLATE: "While spirit photography, which claims to capture ghosts on film, dates back to the middle of the 19th century—William H. Mumler was tried in New York for faking photographs in 1869—the practice has had tremendous longevity. These photos, taken in the first couple of decades of the 20th century, were part of a resurgence of interest in "psychic photography" after the tremendous losses of World War I.
The "mediums" credited with some of these photographs, Scottish brothers Craig and George Falconer, incorporated the process of making a photograph into their show. The Falconers would invite audiences to watch them load film into their cameras and produce prints, "proving" that no trickery was afoot.
While some other spirit photographers favored draped veils or other indications of ghostly presence, the Falconers had a particular affection for puffy clouds of "ectoplasm," often surrounding the superimposed faces of ghostly visitors.
more on Craig and George Falconer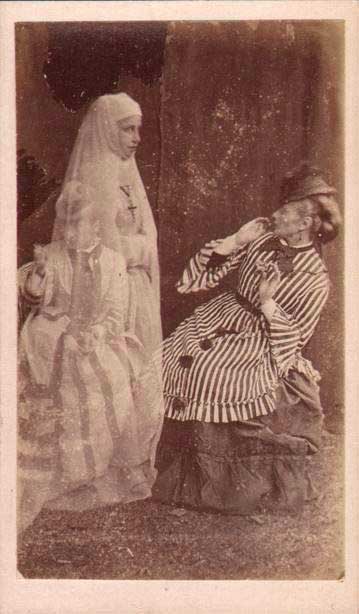 GHOST OF BERNADETTE SOUBIROUS CDV PHOTO circa 1870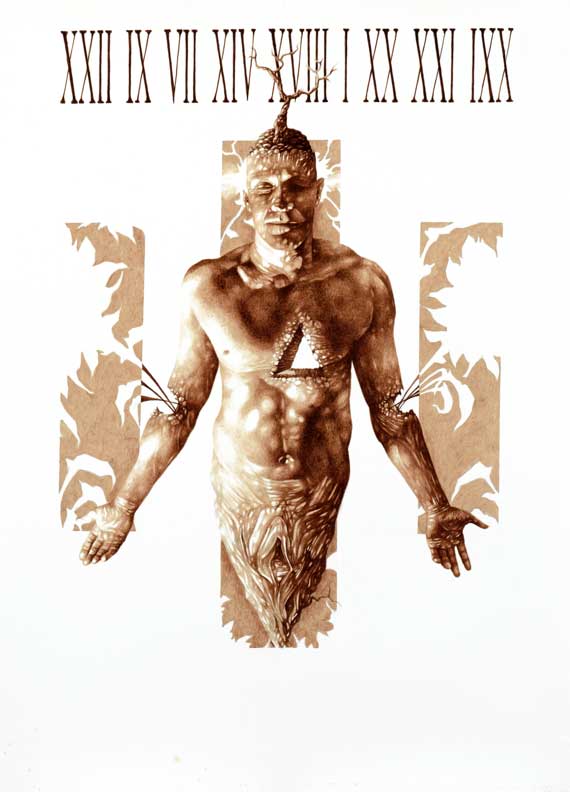 Vincent Castiglia Ray VII Human Blood on Paper 2006
The entire collection of paintings by Vincent Castiglia is created exclusively in human blood.
Vincent Castiglia's paintings are monochromatic tableaux examining life, death, and the human condition. While many surrealists cite fantasy or dreams as their inspiration, Castiglia's canvases are connected to a life story which is highly allegorical.
The archetypal figures in Castiglia's work embody the finitude of human existence. The viewer is presented with the symbiosis of birth and death. The images themselves, as he sees them, form as crystallizations of his experiences, freed from the psyche; the viewer is not only allowed to see into the figure, but also through it, into a deeper psychological world. Vincent Castiglia is the 1st American artist to receive a solo exhibition invitation from Oscar Award-winning artist H.R. Giger to exhibit in the H. R. Giger Museum Gallery. Remedy for the Living, the 1st solo exhibition of paintings by Vincent Castiglia opened on November 1st 2008 and ran for 6 months, closing in April of 2009.

Charles AA Dellschau Double sided watercolor and collage Side A Plate 4728 "Berlin to New York in 36 Hours by Plane" 1920, Side B Plate 4729 "If I Had The M..." 1920 Watercolor, Pencil and Collage
Charles AA Dellschau (1830 - 1923) In the fall of 1899, Charles A.A. Dellschau (1830–1923), a retired butcher from Houston, embarked on a project that would occupy him for more than twenty years. What began as an illustrated manuscript recounting his experiences in the California Gold Rush became an obsessive project resulting in twelve large, hand-bound books with more than 2,500 drawings related to airships and the development of flight. Dellschau's designs resemble traditional hot air balloons augmented with fantastic visual details, collage and text. The hand-drawn "Aeros" were interspersed with collaged pages called "Press Blooms," featuring thousands of newspaper clippings related to the political events and technological advances of the period.
After the artist's death in 1923, the books were stored in the attic of the family home in Houston. In the aftermath of a fire in the 1960s, they were dumped on the sidewalk and salvaged by a junk dealer, and later owned, studied and preserved by a local artist who for twenty years was preoccupied with their mysteries. Eight books made their way into the collections of the San Antonio Museum of Art, the Witte Museum and the Menil Collection; the remainder were sold to a private collector, and made their way into the art world. Dellschau's works have since been collected by numerous other museums including the American Folk Art Museum, the High Museum, the John Michael Kohler Arts Center, the Philadelphia Museum of Art, The Museum of Everything in London, and ABCD Foundation Paris all have major holdings of this artists works.. Like the eccentric outpourings of Adolf Wölfli, Henry Darger and Achilles Rizzoli, these private works were not created for the art world, but to satisfy a driving internal creative force. Dreamer, optimist and visionary, Charles Dellschau is one of the earliest documented self taught visionary artists known in America.
The art of Charles AA Dellschau is presently featured in the exhibition "Vestiges and Verse: Notes from the Newfangled Epic" at The American Folk Art Museum through May 27. Edward Gomez writes in HYPERALLERGIC "AFAM's exhibition offers a rare opportunity to view, up close, some of the art brut and outsider art genres' holiest grails, including works by the Swiss artists Adolf Wölfli (1864-1930) and Aloïse Corbaz (1886–1964), the American Henry Darger (1892-1973), and Charles A. A. Dellschau (1830-1923)"
FOR FURTHER INFORMATION AND VISUALS PLEASE CONTACT STEPHEN ROMANO AT romanostephen@gmail.com or 646 709 4725