FOR IMMEDIATE RELEASE
| | |
| --- | --- |
| | romanostephen@gmail.com |
STEPHEN ROMANO GALLERY PRESENTS
WILLIAM MORTENSEN (1897 - 1965)
and
DARCILIO LIMA (1944 - 1991)
at SCOPE CONTEMPORARY ART SHOW NYC 2017

| | |
| --- | --- |
| William Mortensen (1867 - 1965) "Fear" c. 1930 Unique Manipulated photograph | Darcilio Lima (1944 - 1991) "The Prince" 1972 Unique copper plate etching |
March 2 - 5, 2017

Metropolitan Pavilion
125 West 18th Street
New York, NY 10011

SCOPE NEW YORK CELEBRATES NEW CHELSEA LOCATION AT METROPOLITAN PAVILION

New York, NY: The 17th edition of SCOPE New York returns to a new Chelsea location at Metropolitan Pavilion. Featuring a critically-acclaimed exhibition design, SCOPE New York's convenient and well-appointed venue will host 60 international galleries and a focused schedule of special events, performances and talks to complement its daily VIP program.
The first fair to run concurrent with The Armory Show, SCOPE New York's spirit of innovation has consistently forged the way for emerging artists and galleries. Attuned to nuances in the market and itself an influential force in the cultural sphere, SCOPE continues to usher in a new vision of the contemporary art fair.
SCOPE opens on Thursday, March 2, 2017, with the Platinum First View and VIP Preview, and will run March 2 - 5, 2017.
STEPHEN ROMANO is pleased to announce he will exhibit the works of American visionary photographic artist William Mortensen (1897 - 1965) and Brazillian surealist Darcilio Lima (1944 - 1991) at the SCOPE International Contemporary Art Show March 2 - 5 at the Metropolitan Pavillion in New York.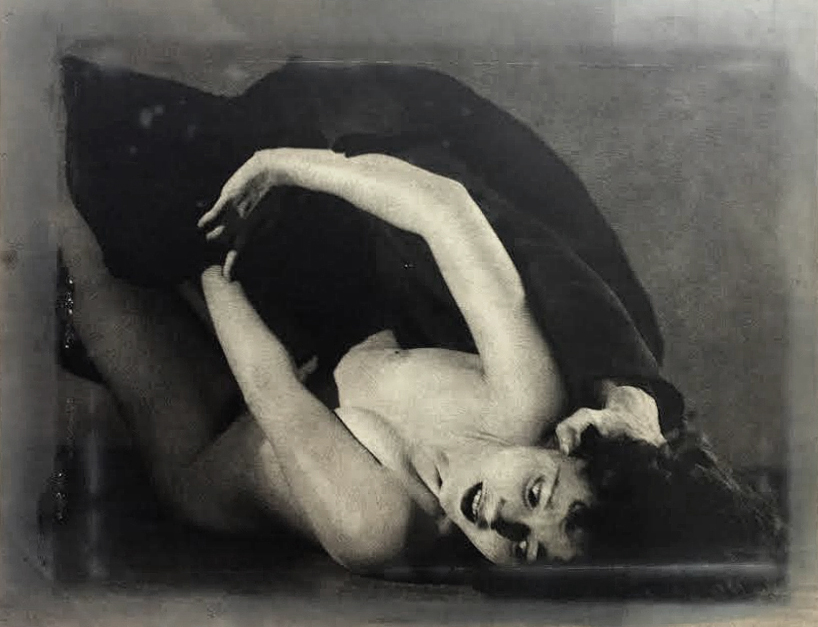 William Mortensen (1897 - 1965) The Initiation of a Young Witch c 1924 photograph
This occasion marks the first time Stephen Romano will be an exhibitor at the SCOPE International Contemporary Art Show as well as the firt time both the works of William Mortensen and Darcilio Lima have been exhibited at the fair.
extracted from Monsters and Madonnas: Looking at William Mortensen
An essay by Cary Loren
William Mortensen (1897 - 1965) was one of the most well known and respected photographers in America in the thirties. He worked primarily in Southern California as a Hollywood and studio portraitist and later taught his methods and ideas to younger generations. (See Larry Lytle's online biography of Mortensen.) Mortensen's obscurity today is mainly due to his championing of Pictorialism, a force within photography that promoted retouching, hand-worked negatives, chemical washes, and an artistic, painterly approach that soon faded with the advance of modernism.
Camera Work (1903 - 1917) was an influential photography periodical founded by Alfred Stieglitz. Within its pages the struggle for "photography as art" was debated along with the principles of Pictorialism and Modernism.[1] Camera Work's last issue featured the photo work of Paul Strand, and soon after the "straight photograph" held dominance, especially with the advance of fast lenses, reportage, and compact cameras. Camera Work faded into history as interest waned and Stieglitz no longer felt it represented the future direction of photography.
| | | |
| --- | --- | --- |
| William Mortensen "L'Amour" 1930 manipulated photograph | William Mortensen "The Heretic" 1930 manipulated photograph | William Mortensen "Dance With Death" 1930 photograph |
As Pictorialism's influence was fading, it was kept alive to the public through camera clubs, amateur photography salons, magazines, and a few die-hard professionals such as William Mortensen, who kept up with exhibitions, publications, and spreading knowledge through teaching the difficult hand-worked techniques of the late-nineteenth century.
Mortensen was considered an anachronism in photography, an outsider in a field that rejected the theatrical set-ups, retouching and strong imaginative subject matter. Ansel Adams, high priest of the straight print, described Mortensen as both "the devil" and "the anti-Christ." Historians seem to have sided with Adams, as there are few mentions of Mortensen in most of the major photo histories.
In "Venus and Vulcan" -- a series of 1934 Camera Craft magazine essays -- Mortensen defended Pictorialism against criticism from the f.64 school and other "straight shooters":
Photography, like any other art, is a form of communication. The artist is not blowing bubbles for his own gratification, but is speaking a language, is telling somebody something. Three corollaries are derived from this proposition.
a. As a language, art fails unless it is clear and unequivocal in saying what it means.
b. Ideas may be communicated, not things.
c. Art expresses itself, as all languages do, in terms of symbols
Mortensen's ideas are simple and at first glance seem entirely outdated -- but with the advance of digital photography and the postmodern turn, we see that photography has retraced its roots in the painterly and hand manipulated direction. This loop has again set us on a path where science has released new "Monsters" from which creative desire can spring. Since its beginnings, photography has dealt with tension between the real and artificial, the mechanical and creative -- that is its cross and raison d'etre.
er existed, as every photograph is an illusion based on reality. Only those images that have commanded our attention with their "creative impact" have remained with us as eternal works of art. Mortensen reminds us of the creative power of photography -- and commands us to look.
-- Cary Loren

William Mortensen left to right: The Incubus c 1922, The Old Hag c. 1924, Preparation for the Sabboth c. 1932, The Incubus c. 1922. manipulated photographs.
| | | |
| --- | --- | --- |
| William Mortensen "The Inquisition" 1924 manipulated photograph | William Mortensen "Fragment" 1924 manipulated photograph | William Mortensen "The Spanish Main" 1932 photograph |
DARCILIO LIMA (1944 - 1991)
The art of Darcilio Lima will be exhibited at the Reine Sophia Museum in Madrid in April 2017 and at the Metropolitain Museum of Art in New York in September 2017, courtesy of Stephen Romano Gallery.
Excerpted from

by Priscilla Frank
Darcilio Lima had his first art show at 10 years old. He was a crucial player in Rio's hedonistic underground art scene in the 1960s. He spent a significant period of time in the 1970s in Paris, sleeping in a graveyard. Like any legit surrealist, he was friends with Salvador Dali. And, yet, the Brazilian artist's name remains widely unknown, despite the captivatingly fine lines and hypnotically twisted figures that ooze forth from the darkest depths of his subconscious.
Lima was born in an impoverished coastal town in Brazil in 1944. In his mid-twenties, he was living the life you'd imagine for a bohemian surrealist, experimenting with drugs, sexuality and identity, while pursuing a deeper spiritual knowledge. The overwhelming ferocity of it all led to a nervous breakdown, at which time Lima took up in an outpatient facility for disturbed creatives, where his art truly reached new, very strange heights.
In the '70s, Lima finally garnered international attention, when — seemingly out of nowhere — he disappeared from the art world completely. "Years later, a journalist who was doing a story on him found him in his northern costal birthplace," Stephen Romano Gallery explained in a statement, "rumored to be haunted by a giant underground serpent, disheveled and unkept, writing his ramblings on the walls of a dirt-floored back room of a church, living off the generosity of the community."
Although Lima attempted to destroy all of his works shortly after being rediscovered, many survived. The artist died in 1994 after a freak accident, but his art lives on.
| | |
| --- | --- |
| Darcilio Lima Untitled c. 1970 copper plate etching | Darcilio Lima Untitled c. 1970 ink drawing |
| Darcilio Lima "The Prince"c. 1970 copper plate etching | Darcilio Lima Untitled c. 1970 copper plate etching |
for further information please contact Stephen Romano
romanostephen@gmail.com

646 709 4725